You may wonder why we Launch See3CAM_CU20 yet another Full HD (1080p) camera when we have our most popular See3CAM_CU30? Launching See3CAM_CU20 naturally creates a lot of comparisons and confusions since there is already a 1080P camera in our catalogue – the See3CAM_CU30. To add to the confusion, See3CAM_CU20 is too good fit for low light surveillance which is also one of the main target applications of See3CAM_CU30. So what makes See3CAM_CU20 and See3CAM_CU30 co-exist in our product line-up? If you are one among the confused lot, you are at the right place. Read on to get your doubts clarified.
NORMAL LIGHTING
Both See3CAM_CU20 and See3CAM_CU30 produce similar images under standard lighting conditions. If there are no special use cases other than streaming 1080P at 30 fps, then both cameras will do a good job at this. Below are the images from both cameras for comparison on streaming at 1080P ~ 30 FPS.

LOW LIGHT
See3CAM_CU30 is known for its excellent low light sensitivity. It works far better than most of the cameras in the market. But the new arrival See3CAM_CU20 outshines See3CAM_CU30. The sensor responsivity of See3CAM_CU20 (4V/Lux-sec) twice as good as See3CAM_CU30 (2V/Lux-sec). See3CAM_CU30 can produce fairly decent image even at 1 Lux. The new born See3CAM_CU20 can produce decent images even below 1 Lux. In addition to that, CU20 has better colour reproduction across all lighting conditions. It can avoid color aberrations (chroma noise) by automatically desaturating the image in low light.

DYNAMIC RANGE
Not just better low light sensitivity, the one thing that stands out as unique feature of See3CAM_CU20 is AR0230 Sensor's ability to produce high dynamic range images. This may be critical for customers who would like to capture scenes with wide dynamic range. For example, in outdoor surveillance under bright sunlight, where clear sky forms major part of the image, with dynamic range of See3CAM_CU30, either we can get proper exposed sky with other regions under exposed or an over exposed sky with other parts properly exposed. See3CAM_CU20 can do a good job in capturing good images outdoors without compromising any details.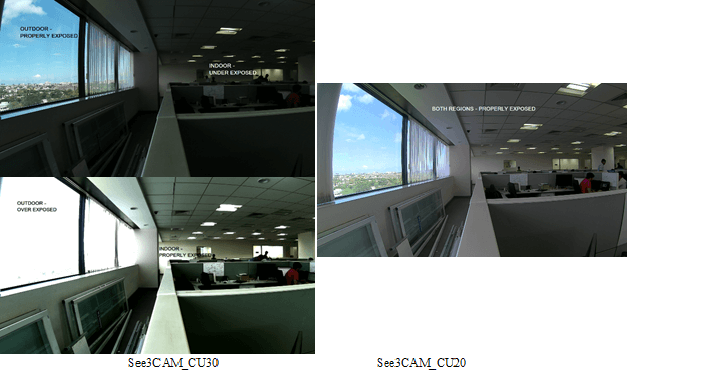 FLASH, TRIGGER & OPERATING TEMPERATURE
Apart from the above two advantages, See3CAM_CU20 also boasts critical features like sensor strobe to centre of exposure (to connect external flash) which is absent in See3CAM_CU30. The See3CAM_CU20 can also operate wide temperature ranges. It can work from -40 to +85 C°.
Advantages of See3CAM_CU30
It is also important to understand the advantages of See3CAM_CU30. These are some of the features that are available in See3CAM_CU30 but not in See3CAM_CU20.
See3CAM_CU30 can support 1080p uncompressed UYVY streaming at 60 fps. Whereas See3CAM_CU20 supports only 30 fps.
See3CAM_CU30 supports both MJPEG and YUV format. But See3CAM_CU20 will support only YUV.
See3CAM_CU30 supports Digital zoom with PAN and TILT support. It is not available with See3CAM_CU20
See3CAM_CU30 also supports Face & Smile detection unlike See3CAM_CU20.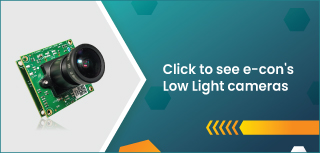 So, which one should you choose? Hope we have answered your question. For more details please contact camerasolutions@e-consystems.com