We often hear about the Internet of Things (IoT) Devices/solutions. IoT devices have drastically increased in the past few years in all industries. From smart warehouses to smart agriculture to retail to environment, there seem to be as many use cases. And all of these devices need power as they collect and share data. In many cases IoT devices will function entirely on batteries. So power will be the most crucial part when developing IoT devices. There were very few low-power processors available in the market; NXP's i.MX7 is one of them. NXP® i.MX7 seems to have been designed for a segment that targets products requiring low power, more battery life and low to moderate processing and graphics power.
Why should one require a camera for their Smart IOT Devices based on the i.MX7?
NXP®IMX7 series is a unique processor for low power portable Internet of Things (IOT) applications. IOT is going from Smart to Intelligent. These intelligent devices require video camera to take actions. Imagine a parking lot management system where multiple cameras are connected to a single smart IOT device to capture images, send 1 captured image per minute to cloud and take desired action for it. This will reduce the time considerably for an action. So, the need of the hour is high quality and high definition cameras for Intelligent IOT applications. e-CAM80_IMX7 will perfectly fit into this space.
Why e-CAM80_IMX7?
You may wonder why we chose this 8MP camera module for i.MX7 when we have some other high resolution cameras. As I mentioned earlier, i.MX7 was designed for a segment that targets products requiring low power and low to moderate processing. Keeping this in mind, we had chosen e-CAM80_MI8865_MOD camera module for its low-power high-performance capability and furthermore, it is already a proven camera module for its dynamic range and reduced dark current which allows capturing good quality images under high and low light conditions. So we designed a camera board e-CAM80_IMX7, contains e-CAM80_MI8865_MOD camera module to interface with i.MX7.

This e-CAM80_IMX7 is based on 1/3.2'' OV8865 CMOS Image sensor with improved 1.4-micron BSI technology from OmniVision. The camera is capable of capturing 8MP at 11 fps, Full HD (1080p) @ 30 fps and HD (720p) @ 30 fps for high speed capturing.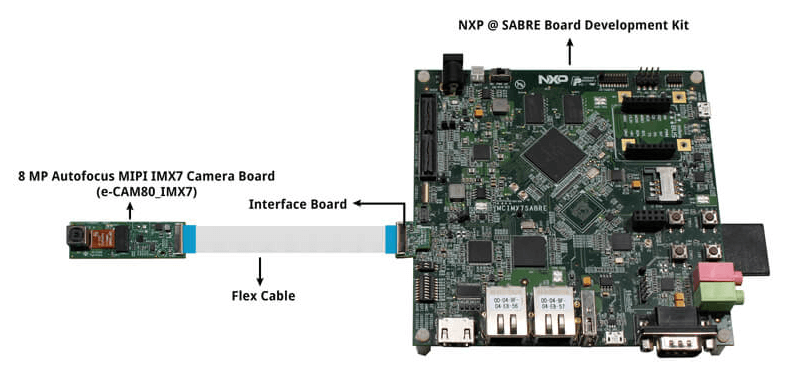 Fig 3: e-CAM80_IMX7 is connected to i.MX7 SABRE board through a flex cable
e-CAM80_IMX7 features high performance Image signal processor (ISP) that provides an excellent quality and low-light images, making this camera ideal for customers designing Internet Of Things (IOT), Barcode Reading (1D and 2D, Patient Monitoring, Smart Home Controls, Wearables, Patient monitoring Building Automation.
For more information, please visit https://www.e-consystems.com/imx7-mipi-camera-board.asp and watch a demo: