In the previous edition of Technology deep dive, we learned what a UVC camera is. We also learned some of the characteristics of UVC cameras and had a brief look at the benefits they offer. In today's blog, we will dive a little deeper into why UVC cameras are one of the most popular camera solutions in the embedded vision world. We will also have a look at some of the most popular new-age applications where UVC and USB cameras are used.
5 reasons why UVC cameras are preferred in embedded camera applications
As you know, USB is one of the most commonly used interface standards in embedded camera systems. This is because USB or UVC cameras meet some of the most critical camera requirements of a vast majority of embedded vision applications. These include:
High bandwidth
Plug-and-play capability
Low development costs
Backward compatibility
Multi-device connectivity
Let us now look at each of them in detail.
High bandwidth
Today's cutting-edge embedded vision applications demand cameras to work faster by offering high frame rates while still maintaining high resolution. This can only be achieved with cameras that come with high bandwidth. UVC cameras are perfect for this as the USB 3.1 interface can provide good video quality with a maximum bandwidth of 10 Gbps.
To learn more about the bandwidth of UVC cameras, please refer Table 1 in the article What is a UVC camera? What are the different types of UVC cameras?
Plug-and-play capability
The plug-and-play feature of USB makes it easy to integrate camera modules into embedded devices. Since USB cameras do not require any additional driver installation, the camera can be automatically detected and read by the host. This feature also significantly reduces maintenance costs.
Low development costs
If you are running on a tight budget, UVC cameras are a good choice. The USB interface has the ability to power the device over the same cable – eliminating the need for an additional power supply. This reduces clutter and cabling costs.
Backward compatibility
The backward compatibility feature of UVC cameras allows a recent version (say USB 3.0) to operate with a device that uses an older version (say USB 2.0). This makes UVC cameras 'engineer-friendly' since many embedded systems even today use the USB 2.0 interface.
Multi-device connection
A single USB slot enables the primary embedded system to manage up to 127 devices – connected using hubs. USB cameras also combine other interfaces' positive features and offer integrated memory for high stability. Depending on your application's requirements, you can choose between different versions of USB to deliver image data from the camera to the PC reliably and quickly.
Popular embedded vision applications of UVC cameras
The reasons discussed above make UVC cameras perfect for some of the most popular embedded camera applications across the medical, industrial, and retail markets. Let us look at some of them in this section.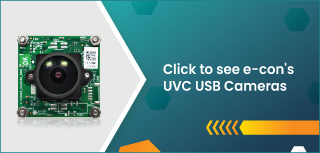 Smart signages
Camera-enabled smart signages are used to display information and advertisement to viewers based on their demography. It is the smart signage camera that captures images of people passing by to analyze their demographic characteristics and serve personalized ads accordingly. One of the key imaging requirements in smart signages is the plug-and-play capability. Hence, a UVC-compliant USB camera can go a long way in enabling easy integration of camera modules into smart signages.
Medical devices
In the medical industry, UVC cameras find a wide variety of applications. Some of the key imaging requirements of medical devices include sensitivity, color reproduction, and high image quality with optimal resolution and speed. A USB camera can meet all these imaging needs while offering the other advantages discussed earlier in this blog.
Some of the popular medical applications where UVC cameras are used are:
Dentistry: Intraoral cameras, extraoral cameras
Dermatology: skin scanners
Ophthalmology: retina scanners, fundus cameras, OCT scanners, etc.
Security and Surveillance
Smart surveillance applications require high-quality images even in ultra-low light conditions. So, CMOS sensors are known to equip them with superior low-light sensitivity. However, CMOS sensors require more power to perform effectively. And the USB 3.0 interface provides sufficient power to operate these sensors. Moreover, this interface works perfectly with high-resolution levels produced by the sensors without cutting speeds. USB 3.x can also provide great video quality with its higher bandwidth – making it a great fit for smart surveillance cameras.
USB 2.0 and USB 3.0 cameras developed by e-con Systems
e-con Systems, with over 18 years of experience, is a market leader in developing and deploying world-class USB 2.0 and USB 3.0 camera solutions. We were also the first company in the world to launch a UVC compliant camera. Our USB UVC cameras can be customized to suit all your imaging needs without compromising quality and performance. Please visit the below links to have a look at our complete portfolio of USB 2.0 and USB 3.0 cameras:
You could also visit the Camera Selector page to get a view of e-con's complete camera portfolio which includes MIPI cameras, GMSL cameras, and parallel cameras as well.
We hope this blog gave you an understanding on why UVC cameras are one of the most popular camera solutions used in embedded vision applications. If you are looking for help in integrating USB cameras (or MIPI and GMSL cameras) into your devices, please write to us at camerasolutions@e-consystems.com.
Looking forward to talking technology with you again next Thursday!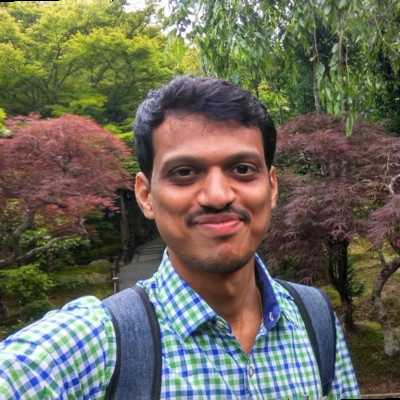 Prabu is the Chief Technology Officer and Head of Camera Products at e-con Systems, and comes with a rich experience of more than 15 years in the embedded vision space. He brings to the table a deep knowledge in USB cameras, embedded vision cameras, vision algorithms and FPGAs. He has built 50+ camera solutions spanning various domains such as medical, industrial, agriculture, retail, biometrics, and more. He also comes with expertise in device driver development and BSP development. Currently, Prabu's focus is to build smart camera solutions that power new age AI based applications.