Leveraging embedded vision to harness real-time data insights is no longer a buzzword in factory floors across the world. It has been a gamechanger as far as OCR is concerned – powering barcode scanners, auto-documentation, label finders, and other high-speed image captures. With automation's growing role on the factory floor, there's a bigger need to enable the collection and transfer of data as quickly as possible. It's one of the reasons why industrial handheld applications have become digital transformation catalysts. According to a report by Mordor Intelligence, a market intelligence firm, the Industrial Tablet PC Market is expected to reach USD 128.01 million by 2026, at a CAGR of 6.1% over the forecast period 2021 – 2026.
Some of the most popular use cases of industrial handhelds include warehouse and inventory management systems for product dimensioning, accurate billing, inventory tracking, quality assurance, etc. In any modern industrial setup, these processes rely on small and rugged battery-powered handheld devices to meet mobility needs, as well as to capture data accurately.
Benefits of industrial handhelds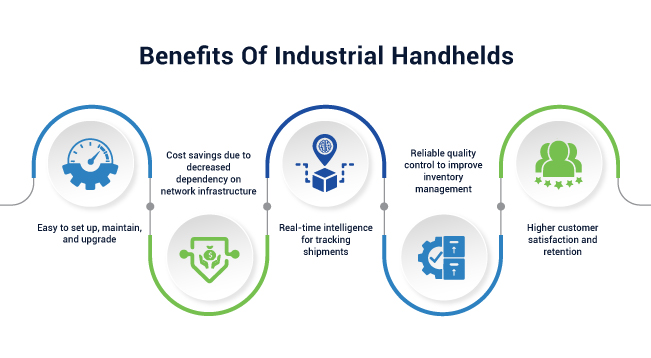 The need for accurate object recognition has led to a surge in the adoption of industrial tablets/ handhelds. Equipped with cutting-edge mobile technology and cameras, these rugged industrial vision applications collect, detect, and transfer data in a streamlined fashion – thereby improving several decision-making processes in factories and warehouses. With the right embedded vision camera solution, you can ensure better quality, performance, and productivity across your manufacturing, testing, and shipping processes.
From assembly verification to the last stage of inspection, there are innumerable components that can be powered by embedded vision systems. But that's easier said than done because while designing an imaging system to capture data effectively, there are some important factors to take into account.
What to consider while choosing an imaging system for industrial handheld applications
One of the biggest challenges in industrial handheld devices is to accurately capture minuscule details of objects that are placed at a considerable distance from the camera. Hence, you should choose an imaging system that comes equipped with capabilities to capture high contrast, high-resolution, and focused images.
High Contrast
Since handheld tablets thrive on the efficiency of data collection, they must be capable of detecting barcodes and processing data with contrast-based algorithms. These algorithms target only the gray-scale contrast in images. It is important to note that monochrome image sensors or high-resolution color sensors can capture images at high contrast, thereby providing an output suitable for the image processing algorithms. This would mean that these high-contrast images help in bringing out even the minuscule details of barcodes, which is one of the key functions of a rugged industrial tablet.
High Resolution
The cameras used in the detection of barcodes are not always close to the subject and have to cover a wide region. The basic premise is that the higher the number of pixels available in the sensor – the better the system's ability to detect defects or barcodes from a distance. Given that the size of barcodes has become progressively smaller, accurately identifying the information they contain has become more difficult without the right sensor.
It's why a high-resolution image sensor is essential to bring out the granular details of an image and provide accurate insights.
Autofocus
Often, handheld devices are not placed at a fixed distance from the objects. The nature of the warehouse or factory operations requires industry handhelds to be portable from the target. To get sharper images, focusing on the target is of utmost importance. In many cases, using the autofocus option is a lot quicker and easier than setting the focus manually. It can swiftly lock onto a target and ensure that the target is always in focus.
To make sure the image output is consistently sharp, it is essential to use an autofocus-enabled camera module.
Summary
Choosing the right imaging system is the backbone of designing world-class industrial handheld systems. By weighing in the above-mentioned factors, you can accelerate product development and kick-start production without compromising on speed or quality. The key is to ensure that your industrial handheld application is driven by superior vision performance, irrespective of the lighting condition or the ruggedness of the environment.
It is also crucial to partner with the right imaging solution provider who has specialized experience in delivering the right embedded vision solutions. With e-con Systems' proven expertise in meeting a wide variety of industrial requirements, you get to design and deploy top-of-the-line industrial handheld applications while achieving faster time-to-market.