Microscopes empower people to change the world every day. They are used to progress scientific endeavors that help understand and improve life on earth – from studying electrical circuits to studying cells. Market studies claim that the global microscopy market will be valued at USD 8.9 billion in 2026 with a CAGR of 5.6% from its value of USD 6.5 billion in 2020.
Especially in the healthcare industry, microscopes have a direct impact on the way humans live – as they play a crucial role in the field of pathology. For many years, they have been an integral part of several medical fields like dentistry, neurosurgery, ophthalmology, etc. Studies also report that the use of medical microscopes is on a rapid rise. The worldwide surgical microscope market is expected to grow at a CAGR of 11.1% by 2028 after being valued at USD 1 billion in 2020.
A microscope is basically an instrument to examine biological samples that are invisible to the naked eye. It is also popularly used in cellular, molecular, and genetic imaging to facilitate clinical screening and diagnosis. Now, the efficiency of medical microscopes depends on their ability to fetch highly accurate results. So, they use specialized imaging techniques to ensure as much in-depth analysis as possible. These techniques include:
Transmission Electron Microscopy: Uses an accelerated beam of electrons through extremely small surface areas to visualize the sample.
Fluorescence Correlation Spectroscopy: Detects any temporal deviations in the intensity of fluorescence and performs correlation analysis to form the image of the sample.
Structured Illumination Microscopy: Illuminates the sample with light patterns and improves spatial resolution before analyzing and visualizing the image.
For many of these microscopic techniques and applications, a monochrome camera is more effective than its colored variants. This article discusses why monochrome cameras are recommended for medical microscopy, and how e-con Systems' See3CAM_CU135M is the perfect solution for such devices.
How imaging works in traditional and modern microscopes
Before we look at why monochrome cameras are a better choice when it comes to microscopy, we need to understand why cameras are required in microscopes in the first place. The best way to do this is to look at the differences in how imaging works in traditional and modern microscopes.
Traditional microscopes, also known as optical microscopes, are equipped with a lenses-based system that magnifies the image of the sample. On the other hand, the modern digital microscope uses a digital camera – acting as a detector. The depth of field in digital microscopes equipped with electronic image sensors is 20 times more than the conventional microscopes! Hence, they are undoubtedly more suitable for microbiology and pathology.
Modern microscopes also come with cameras that allow lab technicians to capture high-quality images of the sample – thereby helping to perform a detailed analysis of the specimen. These images can be processed to provide in-depth analysis like diagnosis, cell counting, cell culture monitoring, etc. Lab technicians and doctors can effortlessly view information (data) about the images on a monitor to better understand the specimen. 
Why use monochrome cameras in modern medical microscopes?
Generally, most will tell you that color cameras are considered to be the most viable option for microscopes. However, very few realize that a monochrome camera with a reliable sensor can perform better. With their high sensitivity, monochrome cameras can capture high quality images in low-light conditions – meaning they are perfect for indoor usage. This along with high resolution can improve the process of analysis by providing detailed imaging. 
The major difference between a color camera and a monochrome camera is the absence of color filter arrays in the latter. Color cameras come with a layer of color filters that pass only light of a particular wavelength.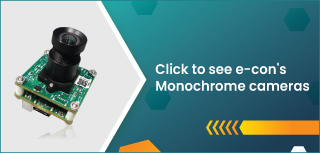 This is done in order to filter out color information from the incoming light. This process restricts the number of photons that reach the sensor. However, with the absence of color filter arrays, monochrome sensors allow light of all wavelengths to fall on the sensor. It equates to higher quantum efficiency, as the sensor can detect a broader light spectrum. This in turn means better sensitivity. So, in a monochrome camera, the output quality will be relatively higher compared to a colored counterpart even in poor lighting conditions.
e-con's See3CAM_CU135M: A natural-fit for medical microscopes
e-con Systems, with 18+ years of experience and expertise in embedded vision has developed a vast portfolio of cameras exclusively for medical devices. One of its most popular products designed particularly for medical microscopes is See3CAM_CU135M. It's a USB camera based on the 1/3.2″ AR1335 CMOS image sensor with advanced 1.1µm pixel BSI technology for high-quality image output – irrespective of the lighting condition. 
As you may be aware, high resolution is a vital feature for medical microscopes that rely on accurate analysis of the specimen. It also determines the field of view of the subject. But the spatial resolution limit of the sensor depends on the size of the individual pixels. Monochrome cameras with smaller pixel size can better enable clinicians to observe the specimen or sample. See3CAM_CU135M comes with a resolution of 13 MP and a pixel size of 1.1 µm. This makes detailed imaging of minute objects possible.
This 4K monochrome camera does not have a color filter array – enabling your application to achieve higher quantum efficiency in both visible and NIR regions. This helps to capture images with less noise, and hence See3CAM_CU135M definitely comes out on top when compared to cameras with RGB color filters.
Related cameras
Talk to us if you are looking for help in integrating cameras into your medical devices
e-con Systems offers extensive customization services to ensure a camera meets the specific requirements of your medical microscopes. We can help you choose the right sensor, interface, optics, and processing platform to make sure your applications meet the desired performance standards. e-con Systems also has a proven track record of successfully delivering camera solutions for many medical customers
Looking for help in choosing the right camera for your medical microscope? Please write to camerasolutions@e-consystems.com.
Our camera experts will be happy to help you.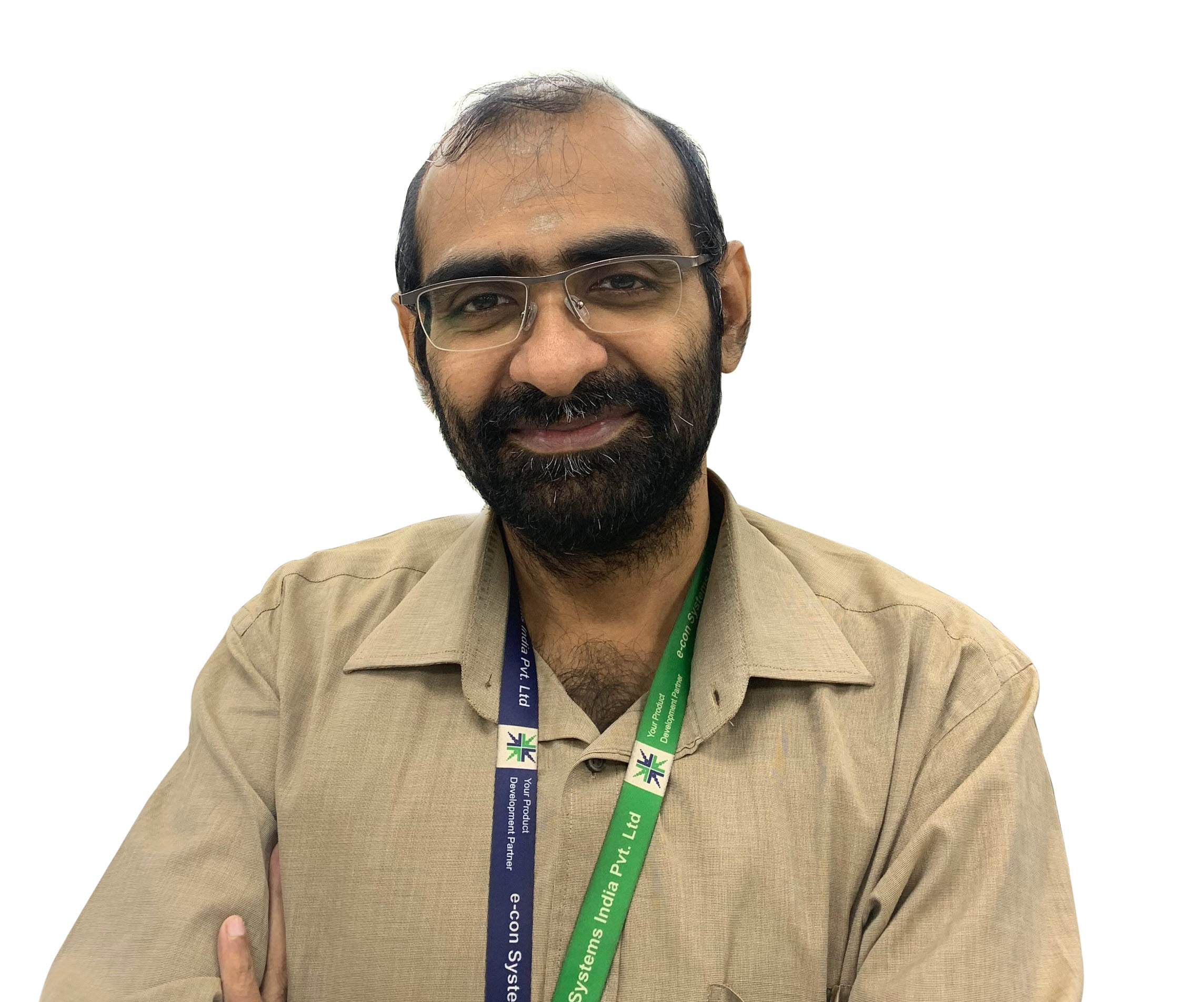 Vinoth Rajagopalan is an embedded vision expert with 15+ years of experience in product engineering management, R&D, and technical consultations. He has been responsible for many success stories in e-con Systems – from pre-sales and product conceptualization to launch and support. Having started his career as a software engineer, he currently leads a world-class team to handle major product development initiatives