Point-of-Care Testing (POCT) also known as near-patient testing is the medical examination done during the time of consultation with portable devices that fetch instant results. Because of its compactness, portability, speed of diagnosis, and ease of use, point-of-care testing (POCT) has gained more popularity among healthcare practitioners in the recent past. With new use cases emerging in the space, innovators are coming with point of care devices which use cameras for faster and more accurate diagnosis. To learn more about the role of embedded vision and cameras in point of care testing, please have a look at the article How vision-enabled point of care devices are transforming the medical industry.
These small portable POC devices demand processors with a compact form factor and minimal power requirements. Recently due to the emergence of highly efficient processors with a smaller footprint, these POC devices have started becoming more compact and portable.
The NXP i.MX8 series of processors is one such processor family. This blog aims to highlight the benefits of NXP i.MX8 series for medical point of care devices and how e-con Systems' cameras are a perfect vision companion for these i.MX8 based medical POC devices.
NXP i.MX8 Series of processors
NXP Semiconductors' i.MX8 series of application processors including single, dual and quad core families based on the ARM cortex architecture can be integrated into various products across industries. The series consisting of i.MX8, i.MX 8M, i.MX 8M-Mini, i.MX 8M-Nano and more are designed predominantly for handheld portable devices such as medical POC testing devices. Cameras coupled with these processors make up an efficient vision system and work perfectly in many products to achieve advanced media processing.
Why i.MX8 for POC devices
i.MX8 processors are the perfect fit for point of care devices predominantly because of 5 factors:
Low power consumption and good thermal performance
Edge AI capability
Image Signal Processing (ISP) unit
Compact form factor and integration capabilities
MIPI CSI 2 interface
Let us now look at each of these in detail.
Low power consumption and good thermal performance
One of the key challenges in developing POC devices is to power them effectively and sufficiently. Most portable medical devices like blood gas analyzers, hematology analyzers, and immunoassay analyzers require a powerful processor which should be capable of running multiple tests with low power consumption. ARM Cortex M/A processors are the ideal choice for such devices. As they come in a smaller footprint, heat dissipation has to be minimal in these POC devices. With powerful processing, they should transfer the built-up heat to the surroundings properly to avoid heating issues.
i.MX8 series of application processors has a performance-scalable multicore which provides efficient processing with low power consumption. The junction temperature is monitored by the underlying operating system. Also Dynamic Voltage and Frequency Scaling (DVFS) is used to adjust the CPU clocks and voltage based on demand to optimize the power consumption. This results in the system generating less heat for workloads that don't make full use of the CPU. The multi-core platform with DVFS allowing to dissipate heat more effectively this way makes i.MX8 processors ideal for portable medical devices.
Edge AI Capability
One of the most important functions of medical POC devices is to analyze the captured images and provide instant results leveraging machine learning on the edge. To do that, these devices require a processor that can run image processing algorithms reliably and quickly. All i.MX8 series processors come with multiple ARM cortex cores ranging from Cortex-A35 to Cortex-A72 capable of running machine learning inference algorithms. Also, the i.MX8M Plus variant in this family has a dedicated Neural Processing Unit (NPU) with a computing power of 2.3 TOPS (trillion operations per second) specifically targeted to run machine learning algorithms.
Image Signal Processing (ISP) unit
i.MX8M Plus comes with internal dual ISPs which help to convert RAW images from the camera module into a high-quality workable image output through various processes such as color conversion, noise reduction, lens shading correction, gamma correction, auto exposure, auto white balance and more. This capability is pretty useful for many applications where the built-in ISP adds more value to the design architecture.
Compact form factor and integration capabilities
One of the prerequisites of point-of-care medical devices is the compact form factor. A small and portable medical device enables healthcare professionals and first responders to provide timely medical care. Also, several POC devices like dermatoscope and intraoral camera need smaller processors which can be easily integrated without compromising the performance and efficiency of the device. Compact i.MX8 processors allow designers to integrate complex components to a portable device with ease.
MIPI-CSI2 camera interface
MIPI-CSI2 camera interface is a high-speed serial interfaces which works on low power with low electromagnetic interference. It is suitable for applications which are data intensive. MIPI can be incorporated into portable medical devices which enable medical device manufacturers reduce design costs and time-to-market by simplifying the design process.
i.MX8 processor series comes with MIPI-CSI2 interfaces to connect MIPI cameras directly which makes the camera integration to this platform easier and faster. e-con Systems has developed cameras exclusively for portable medical devices with i.MX8 processors which helps medical device manufacturers with reduced time to market and faster prototyping.
e-con cameras with i.MX8 for POC device
In recent years, the evolution of compact cameras, processors, and the commercialization of lab on chip have enabled medical device manufacturers to develop portable medical devices that aim to deliver accurate results instantly. As a pioneer in OEM cameras, e-con systems has a portfolio of cameras for i.MX8 processors which meet varied imaging requirements of POC devices such as high resolution, monochrome/color, global shutter/rolling shutter, fixed focus/autofocus, lowlight imaging and near infrared sensitivity.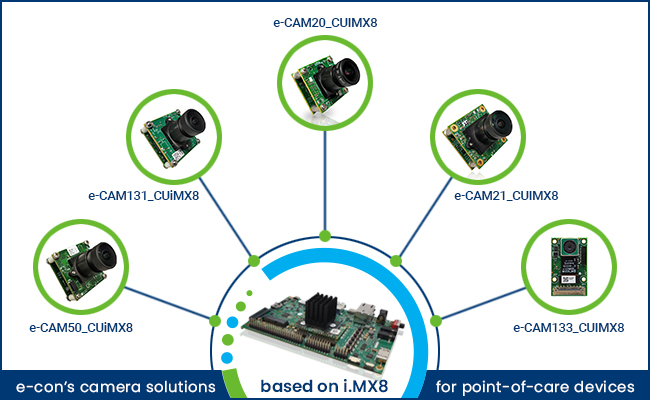 To provide vision solutions based on i.MX8 processors, e-con Systems has partnered with system-on-module manufacturers such as Toradex, Variscite etc. who are providing system-on-modules along with carrier boards for i.MX8 processors. This way, e-con's cameras solutions offer a complete and integrated solution suite for point of care devices that help customers reduce the product integration time, thereby helping them take their products to the market much quicker.
With 18 years of experience and expertise in embedded vision, its wide-range of cameras suitable for POC devices, and partnership with Toradex & Variscite, e-con Systems enables medical POC device manufactures to find the right vision solution in one place for their product development. This in turn helps them to reduce design costs, establish economies of scale that lower price points, and reduce time-to-market for POC devices.
Here is a list of e-con's camera solutions for point-of-care devices based on i.MX8:
e-con Systems has been helping numerous medical device manufacturers embed cutting edge cameras into their products for more than a decade. If you are interested in evaluating our portfolio of cameras for medical devices, please write to us at camerasolutions@e-consystems.com.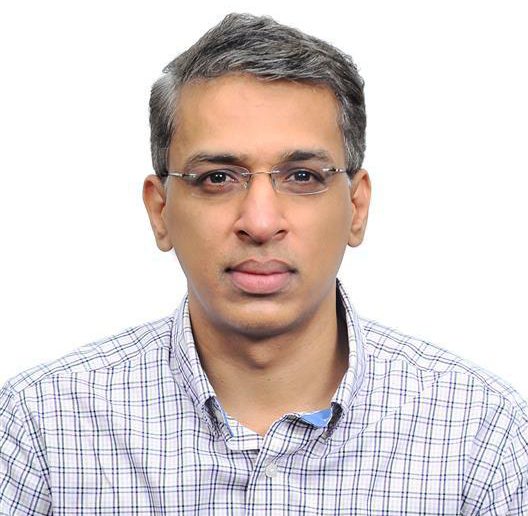 Balaji is a camera expert with 18+ years of experience in embedded product design, camera solutions, and product development. In e-con Systems, he has built numerous camera solutions in the field of ophthalmology, laboratory equipment, dentistry, assistive technology, dermatology, and more. He has played an integral part in helping many customers build their products by integrating the right vision technology into them.