We have been working with the OMAP3 camera for a quite long time. We thought to expand our expertise by starting our development on the OMAP4 camera.
We had one of our customers asking us to record a course of Cricket bat and he wanted a camera that can record 720p@60fps. The camera was to be placed on the cricket bat. This would help them to analyse the reaction times etc. Well, we had the OV5640 to do it, but where is the processor to record 720p@60fps? The OMAP4 Processor can do this. To support these types of customers, we started our OMAP4 Camera development activity with the Pandaboard.
The e-CAM51_44x is a MIPI camera daughter board designed by e-con systems™ for the Pandaboard. e-CAM51_44x, Pandaboard camera uses a 5MP auto focus camera module powered by OmniVision's OV5640 CMOS image sensor. The sensor sits on the MIPI CSI-2 interface of OMAP4430.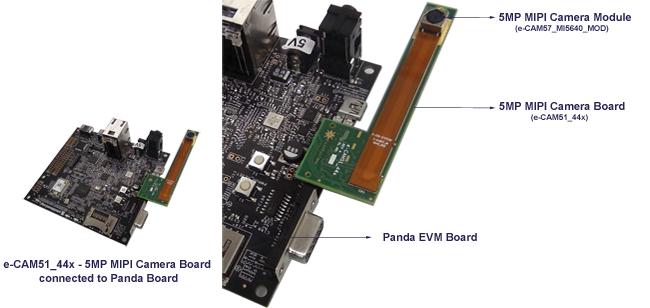 In OMAP4430, the main camera interface is MIPI CSI2, hence it gives the advantage of capturing very high frame rate from the sensor. With the very good experience we got in working with OmniVision sensor, we were able to get higher frame rate like 720p@60FPS,1080p@30FPS etc. from the sensor.
e-CAM51_44x targeted to be launched in early February 2013.