Alioth - eSOM300 Reference Design
The Alioth PXA300 Development Board is a dual board solution which features a piggy back
eSOM300 - computer on module
and carrier board. The computer on module consists of XScale®/ARM PXA300 ultra low power microprocessor, MDDR SDRAM, flash memory, power management IC, LCD Daughter card with 4.3" / 7" TFT, Ethernet, Camera Interface.
624 MHz XScale PXA300 Processor
128 MB Mobile DDR SDRAM
256 NAND Flash
Power Management IC
AC97 Audio Codec with Touch
Ethernet Controller
RTC
Part No: eSOM300-P624-R128-F256-E-C-B-AT

CAN Controller
Display

CRT (Analog VGA)
LCD module with Touch screen (optional)

4.3" TFT - Supports 480x272
7" TFT - Supports up to 800x480

Connectivity

10/100 Ethernet Port
Wi-Fi and Bluetooth (add-on module)
GPRS/GPS (add-on module)

Serial Ports - 7

6 RS232
1 RS232 / RS485

USB

2 Host Ports (1.1 & 2.0)
1 Client Port - USB 2.0

Digital Video

Camera (3 Mega pixel add-on module) (QCI)

Miscellaneous

I2C
SPI

SD/MMC Card Support
Expansion Bus Interface
1 Wire Interface
8 Channel ADC
Upto 40 User Configurable GPIOs
Dimension - 160 mm (L) X 105 mm (B)
Power Supply 9V - 32V DC
WindowsCE / Linux / Android Support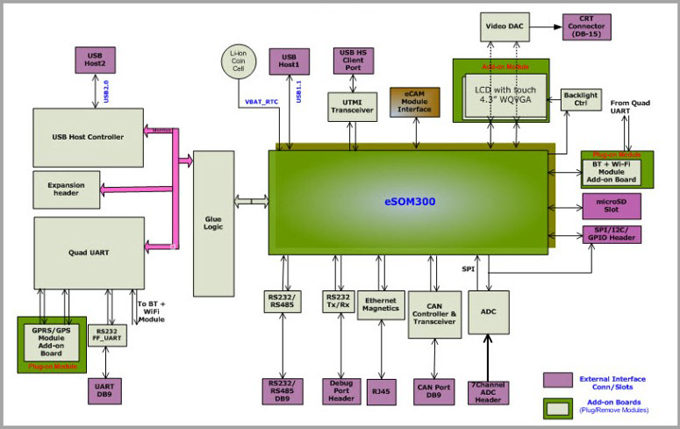 Kit Contents:
Hardware:

eSOM300 Module
Carrier board (Alioth)
USB ActiveSync Cable
LCD with touch 4.3"/7" (Optional)
Stylus
Power Supply

Software:

Preinstalled eboot/uboot
Preinstalled WinCE / Android / Linux (Ångström Distribution) Image
WinCE 7.0 / 6.0 R3 or Linux 2.6.34 or Android BSP
OEM Design Services
The Alioth kit can be used as a rapid product development platform and customers can use this kit to test their application on the Android, Windows CE BSP, Linux (Ångström Distribution) provided by e-con. In addition to the BSP e-con provides reference schematics for the carrier board and hence carrier board design can be done in few weeks time thus enabling the customers to speed up time to market.
Customers can also contact e-con systems for carrier board design based on eSOM300 computer on module. e-con in the past has taken up product development services based on the eSOM300 computer on module.
In addition to that e-con systems has also done Android, Windows CE and Linux BSP porting on the carrier board developed by the customers. Sometimes this has included Android / Linux / windows CE driver development too.
For all enquiries please write to sales@e-consystems.com