DENEBOLA (See3CAM_CX3RDK) - CX3 Reference Design
Denebola (See3CAM_CX3RDK) is a USB3.0 UVC Reference Design Kit (RDK) developed by e-con Systems using the EZ-USB® CX3 USB3.0 Peripheral controller from Cypress Semiconductors. The Cypress
EZ-USB® CX3
is a USB 3.0 peripheral controller that enables developers to add USB 3.0 connectivity to any image sensors compliant with Mobile Industry Processor Interface (MIPI) Camera Serial Interface Type 2 (CSI-2) standard.
The Denebola is a complete Reference Design Kit developed using EZ-USB® CX3 and has OmniVision OV5640 CMOS image sensor interfaced to it through 2-lane MIPI CSI-2 interface. This is a fully functional camera reference design kit that can stream uncompressed 720p60, 1080p30 and full 5MP@15fps. e-con Systems, a Silver level partner of Cypress Partner program, has developed this reference design kit for EZ-USB® CX3 from Cypress Semiconductors.
Two board solution containing baseboard based on CX3 and camera daughter board based on e-CAM52_MI5640_MOD
Two-lane MIPI CSI-2 interface between the CX3 and OV5640 camera image sensor
Optional daughter boards supporting various CMOS image sensors planned
RS232 level UART port for debugging and other communication
SPI Flash and I2C EEPROM for firmware storage. Default firmware is already loaded in the kit
JTAG interface for debugging the firmware
User Configurable GPIOs from the GPIO header
OmniVision OV5640 daughter board interfaced through 2-lane MIPI CSI-2 interface
USB bus powered. Support for external 5V supply through a switch
Maximum frame rates for Preview and Capture

VGA – 60 fps
HD (720p) – 60 fps
Full HD (1080p) – 30 fps
5MP (2592x1944) – 15 fps

Still Image Capture

5MP (2592x1944) resolution
YUV422 (16its per pixel) format

Preview format: YUV422 (16bits per pixel)
Denebola RDK is a two-board solution containing base board designed around Cypress CX3 USB3.0 Peripheral controller and the Camera daughter board designed using OmniVision OV5640 CMOS image sensor based Autofocus camera module. e-con also plans to support multiple camera sensor daughter boards in the future that can be used to evaluate CX3 performance and also other CMOS Image sensors.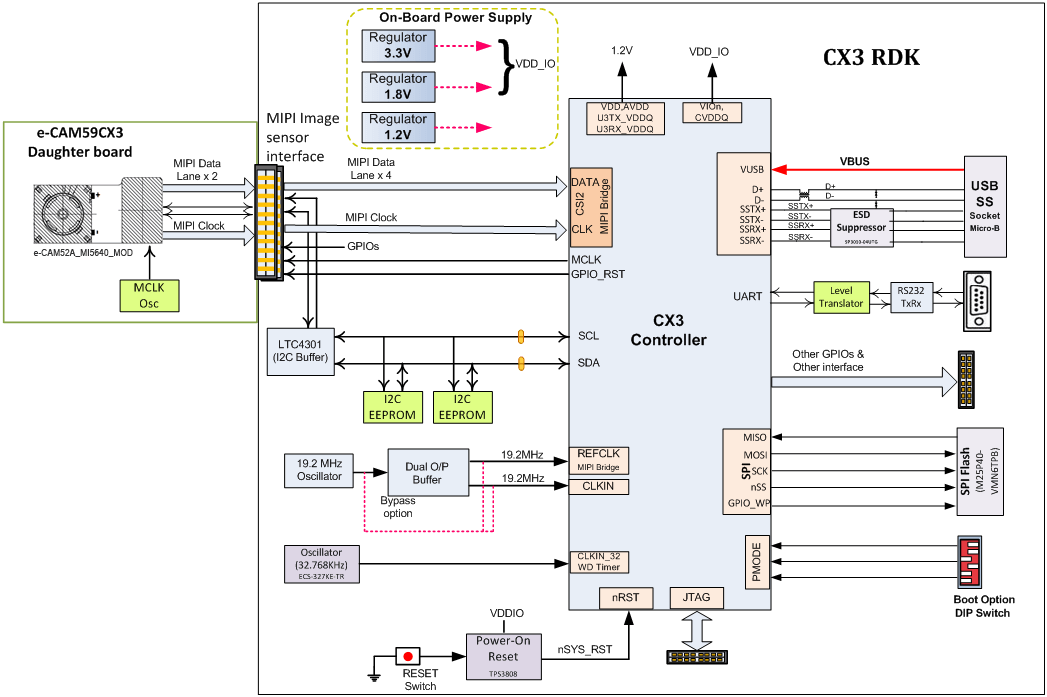 Based on the proven EZ-USB FX3 Platform, CX3 comes with an ARM9 CPU and 512KB SRAM that provides 200 MIPS of computational power. The CX3 supports MIPI CSI-2 version 1.01, up to 4 data lanes with data speed up to 1Gbps per lane, for a total bandwidth of 4 Gbps. CX3 is ideally suited for high-definition or high-speed image-capturing applications. CX3 supports multiple peripheral interfaces such as I2C, SPI, and UART, which can be programmed to support Pan, Tilt and Zoom or other camera control functions.
Supported OS - Windows XP-SP2, Windows Vista, Windows 7
e-CAMView - Sample DirectShow Application software
UVC Camera Controls:

Brightness
Contrast
Hue
Saturation
Sharpness
White balance control (Auto/Manual)
Exposure Control (Auto/Manual)
Focus (Auto/Manual)
Kit Contents:
Denebola CX3 RDK (with e-CAM59CX3 camera board)
USB 3.0 Type-A to Micro B cable
Quick Start Guide
Developer Resources:
Documentation and Firmware:
Software:
CX3 Datasheet and SDK:
The Denebola (See3CAM_CX3RDK) can be used for EZ-USB® CX3™ based product design and this can also be used by our customers to evaluate the EZ-USB® CX3. e-con Systems also provides customization services for our customers interested in USB3.0 camera solutions.
For More Information Please Contact sales@e-consystems.com