eSOM3730 - AM3703/DM3730 System on Module
eSOM3730 is an ultra-low power embedded AM3703/DM3730 SOM. This AM3703/DM3730 SOM has CPU running up to 1GHz, mobile LPDDR SDRAM configurable from 128MB to 512MB and NAND flash configurable from 256MB to 512MB. The eSOM3730 module also has the Wireless LAN and Bluetooth module along with Power Management IC that can be programmed through I2C.
The CPU board exposes the complete range of interfaces provided by the AM3703/DM3730 Application Processor through its connectors so that the customers can get the complete functionality of AM3703/DM3730, without going through the complex design requirements of the processor.
Customer Speaks:
We like econ products because they are great products. It is extremely user-friendly and designed to suit our needs. Read More.. - Chris Diamond, Director, Principal SW Engineer/Architect
Texas Instruments ARM Cortex A8 DM3730/AM3703 Processor running up to 1 GHz
TMS320C64x+™ DSP core @ 800MHz/1GHz (For DM3730)
32 bit 128/512MB LPDDR SDRAM - ultra low power memory
16 bit 256/512 MB NAND flash
Audio Codec
Real Time Clock
Local Bus Expansion
Power Management IC
WiFi - 802.11 b/g/n & Bluetooth 3.0(2.1 + EDR) [Optional]
Operating temperature – -20°C to + 85°C
Power: 3.3V
Module Dimensions: 55mm x 35mm x 5.45mm
Windows Embedded Compact 2013 / WEC7 / WindowsCE 6.0 / Linux / Android Support
RoHS Compliant
Availability - Until 2022 (Minimum)
Interfaces Supported on eSOM3730:
HD Display Controller supports 720p
USB 2.0 OTG
MIPI CSI-2/Parallel Camera Interface
SPI interface (x2)
4 PWM
MMC/SDIO interface
Local bus expansion
3 UARTs
Upto 50 GPIOs
I2C Interface (x2)
1 Wire interface
3.3V to 3.6V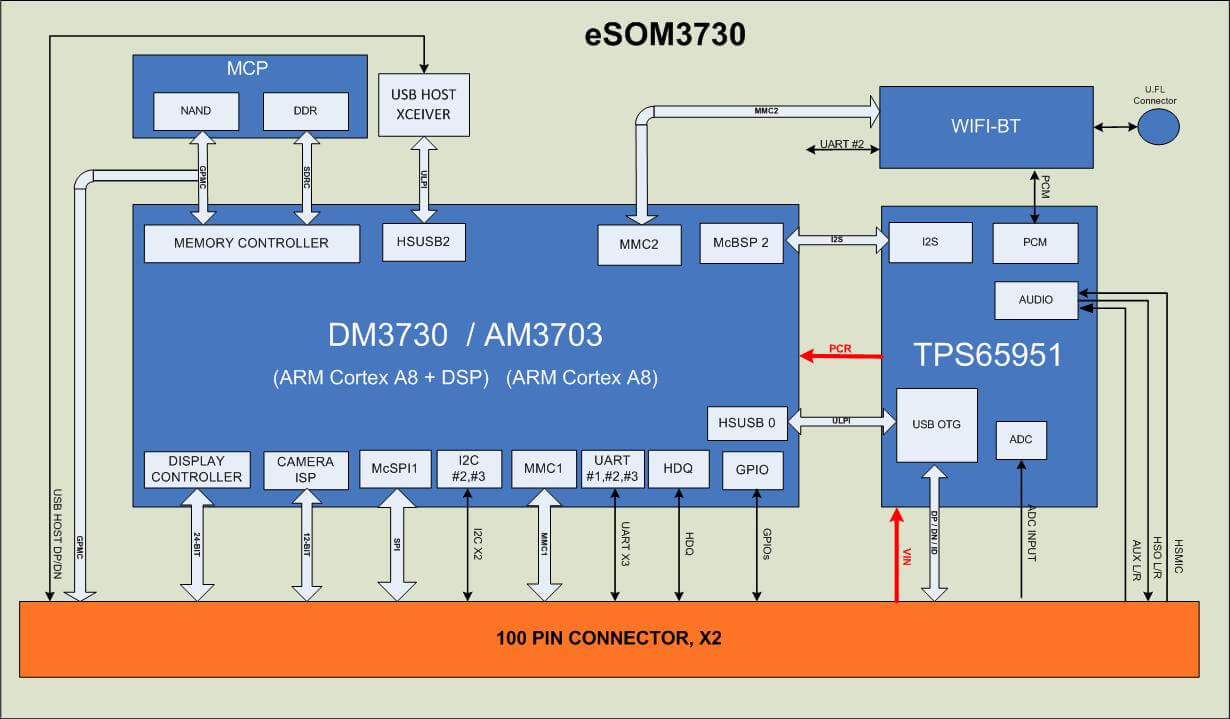 e-con provides a Rapid development kit for eSOM3730 called Almach - DM3730/AM3703 Development kit. This ARM board features a carrier board around the eSOM3730 Module with peripherals supported like 2 channel 10 bit ADC controller, USB 2.0 host and RS232. Also includes Capacitive Touch screen, SDIO, SPI, I2C, LCD controller, 3 UARTs, 1 wire, local bus expansion, USB high speed client, MIPI CSI-2/Parallel camera interface.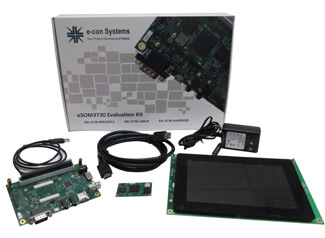 Almach - Reference design for eSOM3730 embedded ARM SOM
As a part of rapid development kit, e-con Systems provides detailed schematics, hardware user manual, Bill of material, application notes to help the customers design their custom board faster and therefore speed up the time to market.
e-con Systems provides Windows Embedded Compact 2013(WEC2013) / WEC7 / WinCE6.0 / Linux / Android BSP with device drivers for all the peripherals.
For more information, please visit DM3730-development-board.asp