eSOM300™ - PXA300 Module
eSOM300 is a module based on XScale®/ARM PXA300 application processor from Marvell and is an ideal choice for embedded applications requiring a combination of low power consumption and mid-range processing and GUI performance, both in consumer and industrial environments.

eSOM300 offers great flexibility and scalability as it can be configured according to the customerís requirement i.e. eSOM300 run on PXA300 CPU based on the ARM architecture which can be scaled up to 624MHz, mobile DDR SDRAM configurable from 64MB to 256MB and NAND flash configurable from 128MB to 1GB and Power Management IC (PMIC). In addition, eSOM300 carries Ethernet, Audio Touchscreen, RTC and Battery Charger on board which again are optional components and hence making it highly flexible module, a unique feature in itís category.
Higher processing speeds with Marvell (formerly Intel) XScale PXA300 @ 208/624 MHz
64/128/256 MB Mobile DDR SDRAM - ultra low power memory
128/512/1GB NAND Flash
AC97 Audio Codec with Touch Screen (optional)
10/100 Ethernet Controller with PHY (optional)
Real Time Clock
Battery Charger (optional)
Local Bus Expansion Header
Power Management IC
SODIMM204 pin socket
Operating temperature – -25 degrees to +85° C
Power: 20 mW @ sleep mode & 2W at full running mode
Module Dimensions: 67.6mm x 41mm
RoHS Compliant
Interfaces Supported on eSOM300:
| | |
| --- | --- |
| USB Host (x2) | LCD Controller - 800 x 600 |
| USB 2.0 HS Client | 3 Serial Ports |
| SPI interface (x2) | 4 PWM |
| MMC/SDIO interface (x2) | 6 x 5 Keypad Interface |
| Camera Interface | Upto 40 GPIOs |
| I2C Interface | 1 Wire interface |
| 3.3V to 3.5V | Ethernet Interface |
| Local bus expansion bus header | Battery Charger |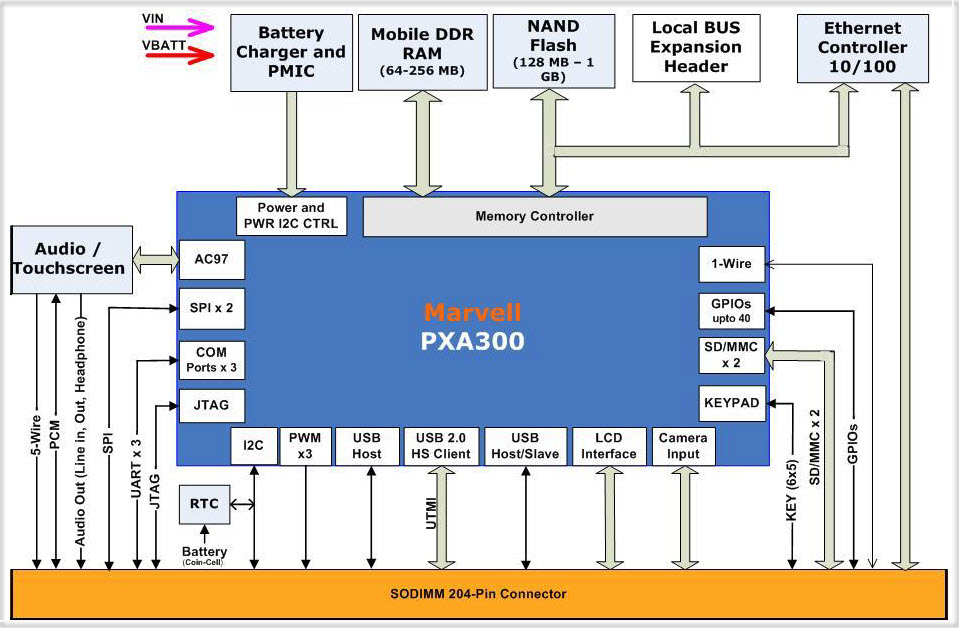 Alioth - Rapid Development Kit
e-con provides a Rapid development kit for eSOM300 called Alioth. This platform features a carrier board around the eSOM300 XScale/ARM Module with peripherals supported like CAN controller, 8 channel 16 bit ADC controller, Analog VGA, USB 2.0 host and RS485. Also includes Ethernet, Touch screen, SDIO, SPI, I2C, LCD controller, 3 UARTs, 1 wire, local bus expansion, USB high speed client, camera interface. Optionally, customers can choose to have a LCD of 4.3" (480x272) / 7" (800x480) with Touch screen.
As a part of rapid development kit, e-con Systems provides detailed schematics, hardware user manual, Bill of material, application notes to help the customers design their custom board faster and therefore speed up the time to market.
e-con Systems provides Windows CE 6.0 R3 BSP/ Linux 2.6.34 (Angstrom Distribution) with device drivers for all the peripherals.
For more information, please visit Alioth.asp