e-con Systems stands by its customers once again by extending a 3 year warranty for all its camera products shipped starting September 1st, 2021. This holds true to e-con's mission of combining people, innovation, and embedded vision technology to build world class OEM products for industrial, retail, and medical environments. This 3 year promise is based on the minimal defect rates we have received over the years with more than 200 products deployed in the market for 5 years or more.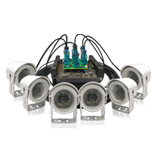 STURDeCAM25 is a Full HD GMSL2 color global shutter camera with an IP67 rated enclosure that comes with external trigger support. This enclosure has anti-fog coating to reduce fogging of the lens.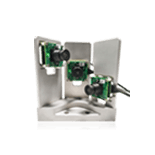 e-CAM130A_CUXVR is a 13MP synchronized multi-camera solution with 3 cameras that provide 180° view using NVIDIA Jetson AGX Xavier. This camera is positioned inwards to create a 180-degree field of view.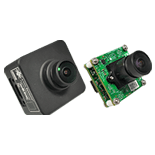 e-con's USB cameras are now coming with an enclosure. These plug-and-play cameras range from 2MP to 13MP in resolution and are compatible with any X86 or ARM platform, as well as industrial PCs.
How to choose the right camera for your product
Are you facing challenges in finding the right camera for your products?  We're here to help you out.  e-con Systems in collaboration with Silicon Highway recently conducted a webinar in which we covered key factors to consider while choosing the right image sensor, optics and interface for a vision-based application. Listen to the webinar now to learn from the top 1% experts in the embedded vision industry.
LATEST PRODUCT DEMO VIDEOS

e-con Systems helped the world's largest eye care device company to enhance their solution with a high-performance IR camera for ophthalmology. We matched the client's expectations regarding speed, processing power, and storage of electronic data that were crucial to meet diagnostic imaging standards.
e-con Systems helped a US-based provider of retail kiosks and digital signages with an HDR camera that leverages biometric facial identifiers to serve personalized content to fuelling station visitors. Our solution could withstand unpredictable outdoor conditions, and it was delivered with a short product development cycle.
This European client wanted to increase their viewer base by live-broadcasting amateur soccer matches (or on-demand or recorded or highlight reels) without the need for a camera operator. See how e-con Systems integrated the client's algorithm with a six-camera system (both equipped for panoramic view & IP67-certified dust and waterproofing).
Embedded vision systems have brought to life new applications with never-before-seen capabilities. However, choosing the right interface such as USB, MIPI, GMSL2, etc is critical to ensuring the best image output. In this article, learn how to choose the right interface to get the maximum performance out of it.
Many robotic vision systems need to capture fast moving objects accurately without any shutter artifacts or motion blur. This many a times requires a global shutter camera with high frame rate. In this piece of content, do a deep dive into how global shutter cameras can enhance the performance of robotic vision systems.
Korea Vision Show 2021
Sep 08 - 10, Seoul, South Korea
Vision 2021
Oct 05 - 07, Stuttgart, Germany
Some of the demos we showcased were,
Reliable and durable imaging using STURDeCAM20 an IP67 rated Full HD color GMSL2 HDR multi-camera solution.
180-degree image stitching using 13MP AR1335 MIPI camera modules connected with NVIDIA Jetson AGX Xavier.
International Technical Exhibition on Image Technology and Equipment 2021
Dec 01 - 03, 2021, Pacifico Yakohama, Japan
We will be showcasing some of our latest products including the 16MP USB camera, color global shutter camera, and more.
Technology Thursday is a weekly blog series written and published by thought leaders in e-con Systems every Thursday around innovations and technology advancements in embedded vision. Learn the what and how of embedded vision from the best in the industry.
Here is the first in the series on the topic "Liquid lens Autofocus vs Voice coil motor (VCM) Autofocus" written by Prabu Kumar, CTO at e-con Systems.
Looking for help in choosing and evaluating the right camera for your product?
Drop a note to camerasolutions@e-consystems.com, and our camera experts will assist you.