e-CAM55_37x - 5MP MIPI camera board for TI's AM37x / DM37x Processors
The e-CAM55_37x is the world's first MIPI CSI-2 camera interface reference design for TI's AM37x / DM37x processors and works with Logic PD's
Zoom™ DM3730 SOM-LV
development Kit. e-CAM55_37x uses a 5 Mega Pixel auto focus camera module powered by OmniVision's OV5640 CMOS image sensor. This camera board is configured to provide MIPI-CSI-2 interface.
The e-CAM55_37x can be directly plugged into the 2x240 Pin expansion socket provided on the Zoom™ DM3730 SOM-LV EVM. The software drivers provided by e-con Systems for this camera daughter card will configure OV5640 sensor and DM37x processor's camera interface. This enables seamless 720p HD video streaming at 60fps through MIPI CSI-2 interface.
The camera board can be interfaced with any OMAP35x / AM37x / DM37x platform that exposes the MIPI signals.
Houses e-CAM52_MI5640_MOD - 5.0 MP Auto Focus Camera Module
Interfaces with the DM3730's MIPI CSI-2 interface
Plugs in to expansion socket of the Zoom™ DM3730 SOM-LV using 240 pin dual row 0.5mm pitch board to board connector
Windows CE 6.0 / Linux / Android camera driver
Sample application for Video/image capture
Board size - W x L: 25 x 94.43 mm
Omnivision OV5640 Image Sensor
Focus Type – Auto Focus (VCM driven)
2 lane MIPI® CSI-2 interface
Maximum Image Transfer Rate

VGA – 60 fps
HD (720p) – 60 fps
Full HD (1080p) – 30 fps *
5MP – 15 fps

View Angle - 67.5 ° Diagonal
Output Format - YUV422
Object Distance - 100mm to Infinity
Effective Focal Length - 3.42 mm
Temperature Range

Operation - -30° to 70° C
Stable Image - 0° to 50° C

Power requirements

Active - 150 mA
Standby - 20 µA

Max S/N ratio- 36 dB
Dynamic Range - 68 dB
Module Dimensions (in mm)

excluding flex cable - 8.5 x 8.5 x 5.15
with flex cable - 19 x 9.6

* - The frames are cropped.
Windows CE 6.0 / Linux / Android driver support
Direct Show support
Stream driver
V4L2 - Linux driver
Sample application with source for image capture at different resolutions
Support for White Balance, AutoFocus and Brightness control
Kit Contents:
Hardware:

e-CAM55_37x with 5 MP MIPI Camera Module (e-CAM52_MI5640_MOD)

Software:

Windows CE 6.0:

DirectShow Compliant driver
Stream driver
Sample DirectShow application

Linux:

V4L2 - Linux driver
Sample View finder Application with Source Code

Android:

Sample View finder Application with Source Code

Documentation:
Customization of driver and application on request
The e-CAM55_37x evaluation kit can be bought by customers who have the Logic PD's Zoom™ DM3730 SOM-LV Development kit and are considering integrating camera on their product. They can evaluate the features of the camera and also build custom applications around it. Please see the kit contents on next tab.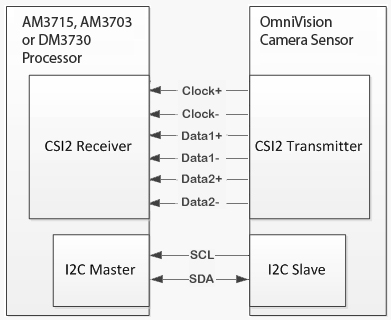 Customers who have bought other development boards based on OMAP35x, AM3715, AM3703 or DM3703 and would like to integrate the e-CAM55_37x on their boards can also check with e-con for support.
Customers interested in customizing the same camera module or planning to use a different camera/sensor module can contact sales@e-consystems.com and explain their requirement. e-con can provide customization services as well.