Windows Embedded Compact / Windows CE - Wireless Drivers
Wi-Fi - 802.11 a/b/g/n modules are widely used in devices and are part of most of the System on Modules that are available in the market. e-con Systems includes a wireless module along with its system on module offering as well (Ankaa - iMX6 Development kit). The inclusion into a standard SOM explains how often wireless chipsets are required on embedded devices.
e-con Systems has been working on Wireless drivers and 802.11 for the past 6 years and has developed a number of device drivers on multiple operating systems. e-con has developed Windows CE 6.0 and Windows Embedded Compact 7/2013 device drivers for its SOM offerings and other customer products as well.
Do you want to integrate a complete wireless solution
into your product?
Click Here
With the support from its hardware division e-con Systems takes up complete wireless integration into the product and does the following.

Choosing the right wireless module

Integrating the hardware

Designing the antenna

Integrating the software and device drivers

Performance Fine Tuning

CE/FCC and other Certifications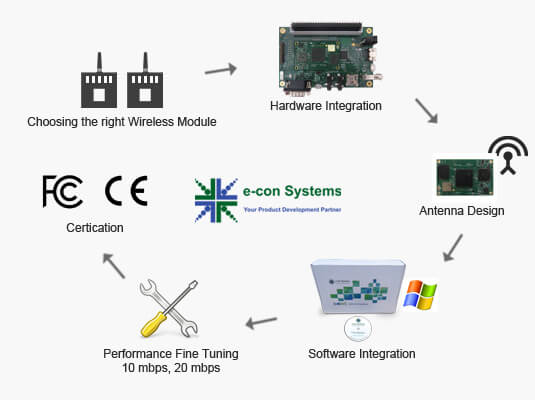 e-con Systems can port any driver for a wireless module from Linux to Windows CE and can also port Wireless Drivers in earlier version of Windows CE (5.0 and 6.0) to latest versions (7.0 and 2013).
Do you want to port your wireless module from Linux to
Windows CE WinCE 5.0/6.0 to WinCE 7.0/2013?
Click Here
e-con Systems has a complete understanding of the NDIS Architecture, the differences between various NDIS versions and the impact of the device drivers below. With this experience, e-con Systems works on porting and extracting the best performance out of Wireless Device Drivers.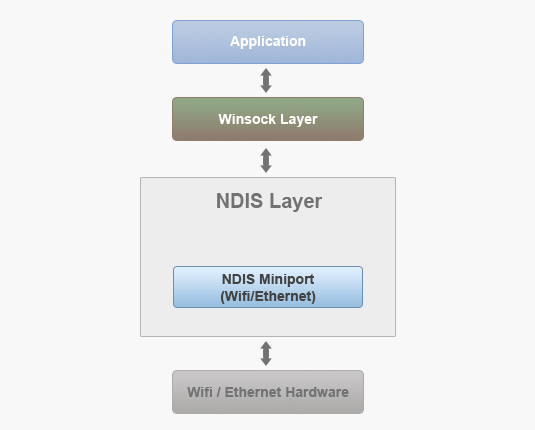 Security and Authentication
Wi-Fi Protected Access (WPA) and WPA2 are the most widely used security standards in the Wireless 802.11 networks.
Windows CE has WPA and TKIP encryption supported on its Wireless stack right from Windows CE 5.0 to the latest Windows Embedded Compact 2013. e-con Systems has developed Windows CE wireless drivers for devices which support WPA and has enabled and tested the security features.
e-con Systems has also worked on the Wireless Authentication using Radius servers, 802.1x authentication.
For wireless networks without a Remote Authentication Dial-In User Service (RADIUS) infrastructure, WPA supports the use of a pre-shared key. For wireless networks with a RADIUS infrastructure, Extensible Authentication Protocol (EAP) and RADIUS is supported.
Wireless Manager
e-con Systems has developed its own simple Wireless Manager and Wireless Zero Configuration implementation to provide a customizable and user friendly wireless configuration for the end user. e-con Systems has implemented this in the tile based User Interface it provides with the Almach development kit.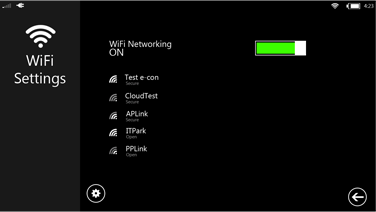 Performance Fine Tuning and Certification
The biggest concern and the most time consuming part of a wireless driver development or porting is the time it takes to fine tune the performance. e-con Systems has worked on wireless driver fine tuning and optimization on various wireless chipsets.
Right from reviewing the driver implementation, working on maximising the performance on the SD Bus, checking on interference, range, etc. e-con Systems has a process it follows to optimize and fine tune the performance on the wireless network. With the experience on multiple networking devices, e-con systems can provide the right solution for the Wireless performance issues.
e-con Systems can work on CE and FCC certification processes for devices/products with wireless radio and can conform to the standards set. The system on module based on DM3730 (eSOM3730) which has a wireless module integrated is CE and FCC certified.
Do you want to fine tune / optimize the performance of
your wireless driver?
Click Here
Bluetooth
Bluetooth (BT) is another common Wireless connectivity option that is widely used in the embedded industry owing to its popularity and acceptance to the mobile phone usage. Most Wi-Fi modules come along with a BT module in-built.
In addition to Wi-Fi driver development, e-con systems have strong expertise in developing Windows CE Bluetooth drivers. Some of the BT Modules for which e-con has developed device drivers are listed below.

Marvell 88W8787 (SDIO)

Marvell 88W8688 (SDIO)
e-con is specialized in developing both Wi-Fi and BT device drivers for a single wireless module.
Apart from the BT transport device driver, it is very important to integrate the right Bluetooth profiles to use BT in Windows Embedded Compact along with commonly available BT devices. Windows CE supports a lot of Bluetooth profiles internally. But in normal Board Support Packages provided by silicon vendors, the Windows Embedded Compact drivers for BT modules and the profile integration are not done. Also there are no test applications that exhibit proper BT functionality.
e-con Systems has integrated the BT profiles with BT hardware and has working application samples for all the following profiles.

OBEX

FTP

Audio Stereo

Headset

HID (Keyboard and Mouse)

PAN

DUN