Windows Embedded Compact / Windows CE - Display and Touch Drivers
The graphically rich and user friendly interfaces of smartphones and tablets have changed customer perceptions on what to expect even on enterprise devices. The era of "clunky" industrial looking touchscreens and interfaces is over. Device manufacturers who do not offer sophisticated and graphically rich user interfaces run the risk of being perceived as out of date - even if they offer the latest hardware and software applications.
Customers now expect High Definition Displays with intuitive and fluent finger based touch and gesture controls. Device manufacturers now need to pay as much attention to the interface design as they do to the hardware and software.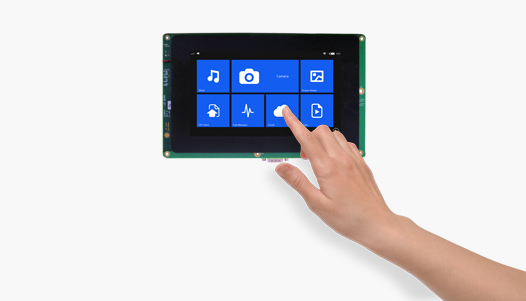 Do you want to evaluate your display/touch driver?
Click Here
Display and LCD
e-con Systems Windows Embedded Engineers have expertise working with Display Controllers and LCD drivers and have extensive experience in developing the drivers from scratch.
e-con's years of expertise in camera modules has helped it to develop very high levels of expertise in display and LCD interface development. Camera and image applications in devices requires an in depth understanding of the display sub system, LCD drivers etc. and e-con is able to transfer this expertise to a much wider range of devices which require sophisticated GUIs.
e-con Systems has experience developing drivers for displays on the

RGB Interface

MIPI Display Interface

LVDS Display Interface

HDMI Interface
The display brilliance is more often a combination of the Display Controller and the Actual LCD Display hardware. The display controller is generally a part of the System On Chip (like TI OMAP, NXP/Freescale IMX series, Samsung Exynos, etc., in an embedded system.
e-con Systems has worked on the display pipeline of popular Application processors and have extracted the best performance out of the pipeline.
Do you want to optimize the performance of your display driver?
Click Here
Features like the ones below have been implemented in the driver/application by e-con Systems.

Gamma Correction

Colour Correction

Scaling the output video

Overlays

Alpha blending

e-con Systems has closely worked with the Graphics Acceleration which is a part of most Application SOCs.
e-con Systems has enabled Graphics acceleration in all the Board Support Packages that it supports. Graphics Acceleration is also an important requisite for the Silverlight based applications

Touch - Capacitive and Resistive Touch
Touch has become the most widely used interface in all new products that are being introduced in the market. Touch based UI will dominate markets and applications as we move forward.
With Windows Embedded Compact 7.0 and 2013, MS has supported additional touch features onto the Windows CE Stack.

Gestures

Multi-Touch
e-con Systems has enormous experience in Touch screen driver implementations for both the RESISTIVE and CAPACITIVE touch screens. A touchscreen implementation goes much beyond the basic Windows CE driver implementation. The critical part of the development lies in the optimization and calibration of the touch co-ordinates and the sensitivity of the touch. e-con has the capability to develop touch applications that extract the optimal features from the available touch hardware.
e-con Systems have optimized resistive touch to the extent that it can be used as a way to obtain digital signatures, without any pronounced lag or delay.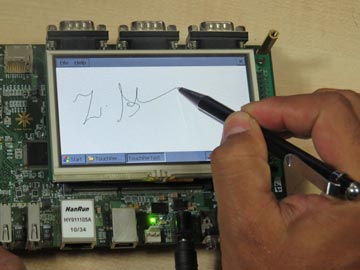 e-con Systems have developed Multi Touch and Touch gestures with Capacitive touch screens on Windows CE 6.0, Windows Embedded Compact 7 and Windows Embedded Compact 2013 as well.