Windows Embedded Compact / Windows CE - USB Drivers
USB is the most preferred interface between a PC and external devices. There are a variety of USB devices across a spectrum of applications and use cases today. From simple HID devices to complex composite functional custom USB Devices, the USB device market has grown manifold in the last decade.
e-con Systems Experience with USB Technology
e-con Systems has expertise in USB technology and has extensive experience in designing USB devices, USB Protocol Stacks, USB based video and the like.
e-con Systems released one of the world's first USB 3.0 based super speed cameras. e-con has also developed indigenous USB Video Class stack that runs on USB device controllers as well as in ARM based devices that run Windows CE or Linux.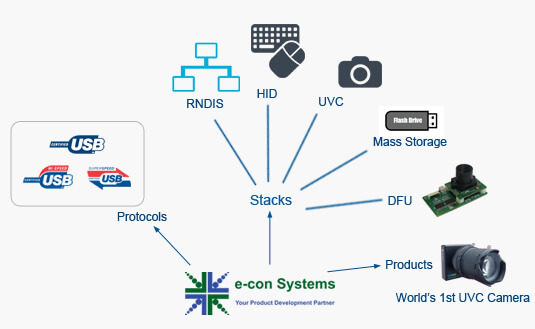 USB Devices and Drivers
e-con has worked on USB devices across different USB function classes. Some of the most popular ones are:
USB HID - e-con Systems has worked on custom USB HID implementation. Our in house team of USB specialists have used the USB HID device class to build custom transport to facilitate easy interaction between peripheral devices and the Windows CE host device. A custom HID implementation meets the needs of device interaction use cases without having to write elaborate drivers.
USB Printer
USB printers are supported in Windows CE operating system and most printers that follow the PCL (Printer Control Language) standard would be compatible with the Windows CE system. e-con Systems has worked on USB based thermal printers and laser printers and have supported use cases like

Label Printing

Receipt Printing

Report Printing
The team has worked on custom formatting of the text and images, font support, etc. on specific printers
USB Camera
e-con Systems designs, manufactures and sells USB Video Class compatible cameras for various markets including the machine vision market.
The Windows CE team at e-con Systems has experience in developing UVC drivers and application support for USB cameras. The USB Video Class host side stack has been optimized by e-con Systems, which permits streaming of higher resolution MJPEG streams.
Do you want to develop a USB Video Class driver?
Click Here
USB Serial Port
e-con Systems has developed multiple USB to Serial devices and has worked on both the Host side and device side for the Serial Communication Class Device (CDC) implementation.
In addition, e-con systems has experience in areas such as USB mass storage implementation and USB RNDIS implementation, having developed it across multiple customer products.
USB Stack Development
Each USB device attached to the host has a specific function and is associated with a specific USB class. In case of composite devices, there are multiple functions and classes supported in the same device.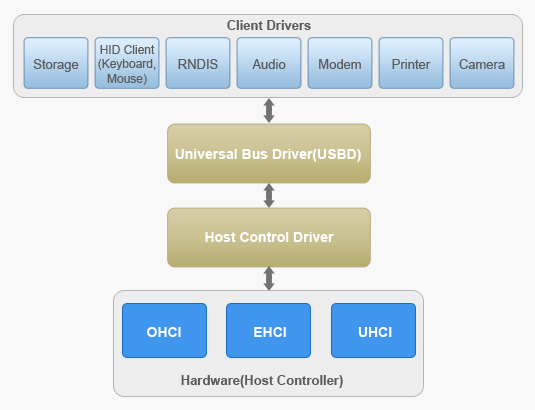 e-con Systems has worked on custom stack implementations and has also developed the USB Video Class Device.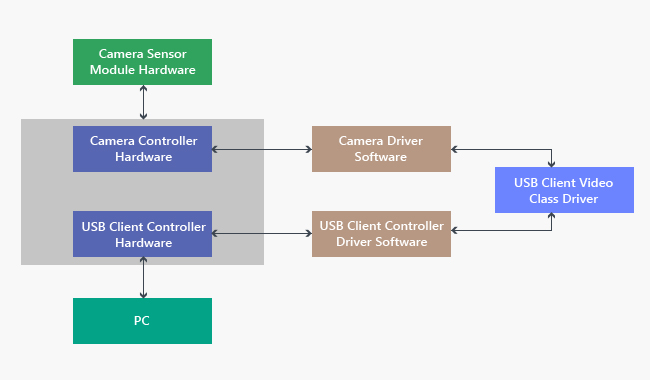 e-con systems has customized and implemented this UVC stack for multiple products that are in the market currently.
e-con Systems has its custom USB DFU (Device Firmware Update) stack and associated utilities and drivers on the device as well as on the Windows PC. With the USB DFU, e-con has optimized the development and also the on-field device update features.
e-con Systems provide USB DFU implementation with the BSPs along with our development boards.
The DFU can also be customised to specific customer use cases and can be integrated by e-con Systems into the final product
Porting of Linux to Windows CE
e-con Systems has a very strong in house embedded Linux team in addition to its Windows CE specialists. With the combination of USB protocol knowledge, Windows CE expertise and Linux expertise, porting of device drivers and custom stack implementations from Linux to Windows CE can be executed efficiently and with fast turnaround time by e-con Systems.
Do you want to port your device drivers and custom stack implementations from Linux to Windows CE?
Click Here
A number of customers who have completed Linux device drivers for their products have approached e-con Systems Windows Embedded team for porting the drivers to Windows CE 6, Windows Embedded Compact 2013 and Windows Embedded Compact 7. e-con systems has worked on such porting device drivers and have ported USB based HID, camera and other class drivers to Windows CE.