+1 314

732 1152

Camera Selector
Camera Solutions
Camera Modules
USB 3.0 Cameras
Cypress® CX3™ RDK
System on Modules (SoM)
Contact

Online Store
Menu
Product Design & Development Services

DOWNLOAD
Product Design Profile
e-con provides end to end product development services in the embedded design. This is also called as concept to product in the embedded industry. Customers approach e-con with a concept and e-con helps them to achieve the final designed product. The Electronic Product design involves the following stages as mentioned below. The diagram below illustrates the product development cycle.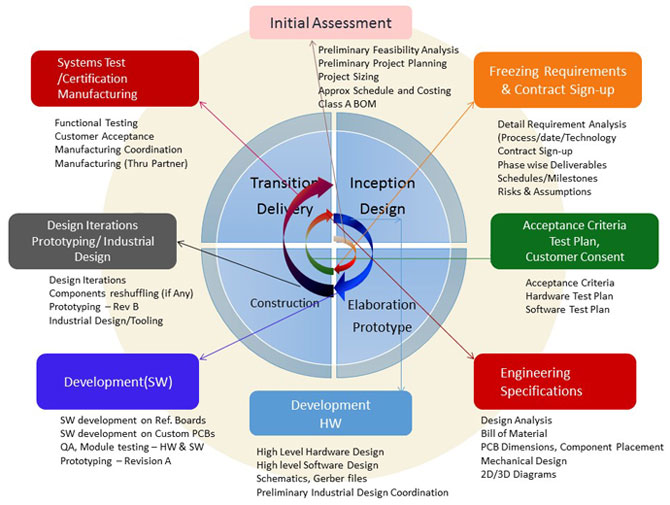 Electronic Product Design Cycle
TESTIMONIALS:
"We were looking for a single vendor with both Hardware & Software expertise that could help us with our quick prototyping efforts – and e-con Systems fit the bill perfectly. The e-con team was knowledgeable, efficient and always communicated in a timely manner. Our project requirements were constantly evolving, and even in this fluid environment e-con was able to meet their deliverables. We thoroughly enjoyed working with the e-con team and hope we can use their services again in the future"
Jeff,
Sr. Program Manager,
Nokia.
Steps involved in Product Development and Design Services
Time taken for developing a product

DOWNLOAD
Product Design Profile
Typical product development cycle extends from 6 months to 1 year. This timeline covers from concept to getting into production. These are the timelines spent on each stage.
Stage
Requirements gathering, feasibility, project information report
Acceptance test plan, Engineering design
Hardware/software Implementation, Prototyping
Testing, certification and Production setup
% Of the total timeline
10%
25%
25%
40%
Know more about Why Productized Services or If you have any query on product design services, please write to sales@e-consystems.com