SmarteCAM - Full HD Smart Camera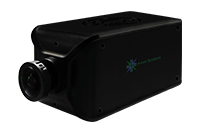 SmarteCAM is a ready-to-deploy smart camera system which can perform all your image processing and analytics indigenously. The powerful system inside SmarteCAM is capable of making the camera, an edge device, smarter and capable of delivering results without the connectivity or power of the cloud. SmarteCAM is a programmable OEM Smart Camera with NVIDIA TX2 and Linux at its core and e-CAM30_CUMI0330_MOD as its eye. Customers can program the smart camera with their own computer vision algorithms and AI models and customize the SmarteCAM for their use case. SmarteCAM is ideally suited for running imaging based ML/DL models at the edge. Typical use cases are in Retail, Security, Logistics, etc.
Key Features of Smart Camera
Available with Full HD and 4K Configuration

13.0 Megapixel color camera sensor with Ultra-HD (4K) streaming support
3.4 Megapixel color camera sensor with Full-HD (1080p) streaming support

USB 2.0 OTG port for Keyboard/Mouse or external storage
Gigabit Ethernet connectivity
Mini HDMI interface for display connectivity
Micro SD card slot, expandable up to 128GB
Wi-fi connectivity
Open platform powered by Linux for Tegra - 4.4.38
Compatible with NVIDIA development tools
Housed in elegant lightweight aluminium enclosure with Tripod/wall mount options
Operating Voltage: 12 / 19 V +/- 5%, Power * : 15W
Compact solution of size 140mm (Without Lens) x 71mm x 57.5mm (With Screw Socket)
Weight: 591 Grams
RoHS compliant
* - Depends on the application it may vary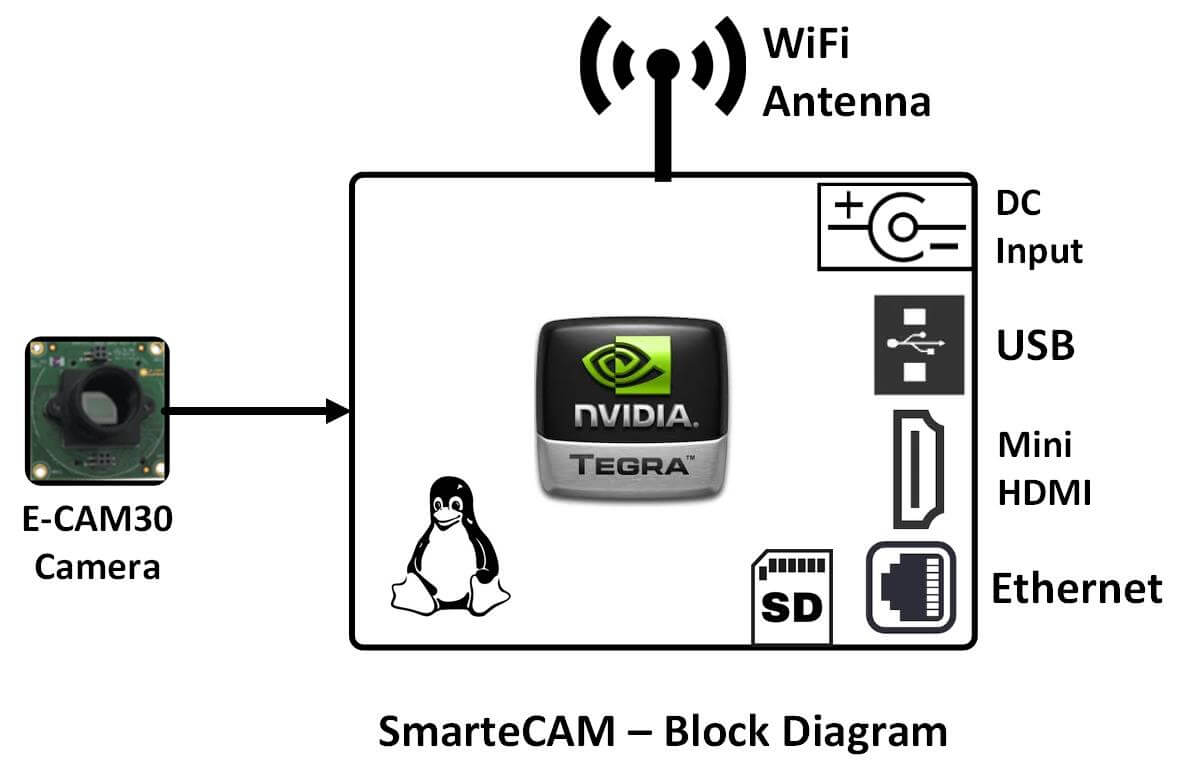 Machine Learning Frameworks

Tensorflow
Keras
Dlib
Cafee
Yolo - Tiny
TensorRT
cuDNN
scikit-learn

Vision Framework
Operating System

Ubuntu - 16.04.5 LTS
Linux tegra-Ubuntu 4.4.38-tegra

User Interface Framework
e-con Systems has a Smart Vision Solutions team creating solutions for vision problems in various markets. e-con Systems partners with various companies in the industry to create integrated solutions for customers.
For more information sales@e-consystems.com
Smart Checkout

Smart Checkout solution is a platform solution targeted towards the Retail industry using the SmarteCAM Smart Camera.
Automating checkout counters with Vision systems and Smart Carts is on the rise and e-con Systems is creating edge vision solutions addressing the automation of the retail checkout counter.
In addition to bar code scanning, vision based scanning solutions will detect faulty, damaged and unsealed products.
Smart Eye

Smart Eye is a people detection and tracking solution based on the SmarteCAM Smart Camera.
Identifying people and tracking their movement is of great importance for Security applications and Analytics in shopping malls, public gathering, etc. e-con Systems' edge vision solutions target this need and is including the necessary hardware and software algorithms in its SmarteCAM product to address this requirement.
In addition to tracking movement of people, vision based tracking can differentiate between people and other object movement, can detect movement of machinery/vehicles out of an industry, etc.
Smart Recognizer

Smart Recognizer is a face recognition solution targeted towards the Time and Attendence and Security markets. This solution is based on the SmarteCAM Smart Camera from e-con Systems.
Recognizing faces and using that as a biometric Time-Attendance/Access control is being used across industries. e-con Systems' edge vision solutions has optimized and improvised algorithms for face detection and recognition.
In addition to acting as an access control, Face Detection can also help in tracking people movement inside an office or factory with the help of other networked SmarteCAMs adding higher level of access control and security.