e-CAM51IMX6 - 5MP MIPI iMX6 Wandboard Camera
e-CAM51IMX6 is a camera daughter board designed by e-con systems for the Wandboard - NXP®/Freescale® iMX6 Processor based Single Board Computer. e-CAM51IMX6 wandboard camera uses a 5 Mega Pixel auto focus camera module based on OmniVision's OV5640 CMOS image sensor and is interfaced to i.MX6 CPU through MIPI® CSI-2 Interface.
The e-CAM51IMX6, 5 Mega Pixel MIPI camera board is capable of streaming 720p@60fps (HD) and 1080p@30fps when interfaced with Wandboard.

Also check out iMX6 MIPI Camera with SABRE Lite Development kit
Wandboard Camera Key Features:
Houses e-CAM57_MI5640_MOD - 5.0 MP Auto Focus MIPI Camera Module
Plugs in to Wandboard - NXP®/Freescale® iMX6 based SBC via 33-pin Flex cable
Linux camera driver (V4L2)
Android camera driver *
Sample application for Video/image capture & Preview
Board size( W x L): 98 x 24.6 mm (Camera daughter board)
* - Under development
Wandboard Camera Module Features:
Omnivision OV5640 1/4 " 5MP CMOS image sensor
Focus Type – Auto Focus (VCM driven)
2 lane MIPI® CSI-2 interface
Maximum Image Transfer Rate

| | |
| --- | --- |
| | YUV422 |
| VGA | 60 fps |
| HD (720p) | 60 fps |
| Full HD (1080p) | 30 fps * |
| 5MP | 15 fps |

View Angle - 60 ° Diagonal
Output Format - YUV422
AF Working Distance - 100mm to Infinity
Effective Focal Length - 3.42 mm
Temperature Range

Operation - -30° to 70° C
Stable Image - 0° to 50° C

Power requirements

Active - 150 mA
Standby - 20 µA

Max S/N ratio- 36 dB
Dynamic Range - 68 dB
Module Dimensions (in mm)

excluding flex cable - 8.5 x 8.5 x 5.15
with flex cable - 78.5 x 9.6 x 5.15

* - The frames are cropped.
Software Required for Wandboard Camera:
V4L2 - Linux driver with Source Code *

720p@30fps and 1080p@30fps video preview
Still Image capture

Sample application with source Code:

Video Preview
Still Image capture at selected resolutions

Camera Controls

Brightness
Contrast
Hue
Saturation
Sharpness
Auto White Balance
Auto Focus

* - 720p60 video support in driver and for other customizations, Please contact sales@e-consystems.com
The software drivers provided by e-con Systems for this camera daughter card will configure OV5640 sensor and i.MX6 processor's camera interface and enable seamless video streaming through MIPI® CSI-2 interface. e-con also provides sample application that displays the video on the HDMI Monitor.
Please contact sales@e-consystems.com for any customization requirements.
Wandboard Camera Kit Contents:
Hardware:

e-CAM51IMX6 with 5 MP MIPI Camera Module (e-CAM57_MI5640_MOD)
Flex Cable

Software:

V4L2 - Linux driver source code
Sample View finder Application with Source Code

Documentation:
Customization of driver and application on request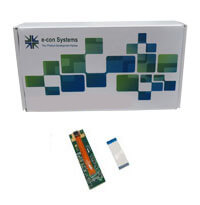 Wandboard Camera Ordering Info:
The e-CAM51IMX6 evaluation kit can be bought by customers who have the Wandboard - Freescale® iMX6 based SBC and are considering integrating camera on their product. They can evaluate the features of the camera and also build custom applications around it. Please see the kit contents in the next tab.
Customers who have bought other development boards based on NXP®/Freescal® i.MX6 and would like to integrate the e-CAM51IMX6 on their boards can also check with e-con for support or customization.
Customers interested in customizing the same camera module or planning to use a different camera/sensor module can contact sales@e-consystems.com and explain their requirement.