Windows CE Application Development

e-con Systems has been working with Windows embedded technologies for a decade now and has been Windows Gold partners with Microsoft since 2008. We have been working on Microsoft technologies both on the Windows embedded and Windows desktop side. Our embedded application solutions spectrum includes domains but not limited to Security, Agriculture, Banking and Medical.
The windows applications team has a proven track record for delivering and supporting complex multi-lingual systems with very stringent performance, regional and quality requirements.
A Windows Embedded Compact Device more often than not boots directly into an application and is thereby often the only application that is running on the system.
So the Windows CE Application has to manage the entire embedded system and its device/peripherals. This is apart from the User interface and the Business Logic layer that performs the core functionality of the targeted application use case.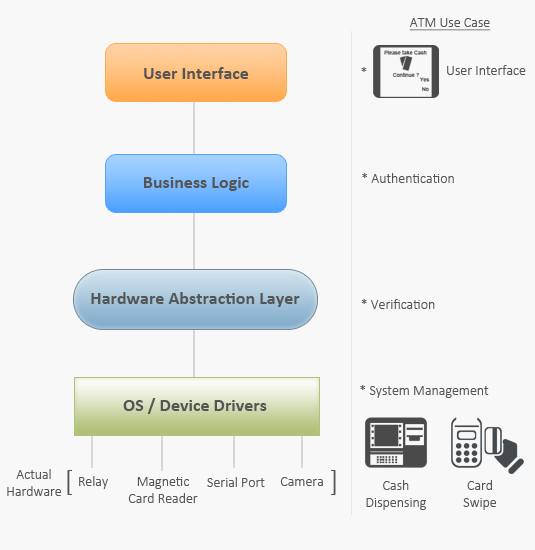 A medical device might require more stability and real time performance than a standardised API usage or modular design which might be the requirements of a handheld device. It requires expertise and experience in embedded application development as each system is unique and its requirements and core functionality might vary drastically.
e-con Systems has worked on more than 50 such Windows Embedded Products over the past 10 years and have extensive knowledge and experience to develop the perfect application for your Windows Embedded based device.
Windows Embedded Technologies
e-con Systems has experience in developing applications using .NET CF, Win32 and Silverlight. e-con studies the customers' requirements and end applications and helps the customer select features which are relevant to his particular industry.
The wealth of experience with these technologies and the very clear understanding of the capabilities and most importantly limitations of the various technologies help us make the right choice for your product development.
Win32 / Windows API Programming using C
Windows API is Microsoft's core set of Application Programming Interfaces available in the MS Windows series of operating systems. A subset of the Windows API is available for the Windows Embedded Compact / Windows CE.
This is the base API and is more oriented towards the C programming language. As it is native code, this is the best option available when the focus is towards performance and stability. The amount of control that one can establish over the OS and hardware with the C - Windows API combination is very high. e-con Systems has developed highly mission critical applications and medical applications with the Win32 API - C combination. These implementations are in the field and have been time tested on the quality and performance.
.NET CF Development using C#
Microsoft Windows CE / Windows Embedded Compact also offers managed code programming options with the .NET Compact Framework. This is a version of the .NET framework developed for the WinCE Application Development which has a lot of resource constraints
e-con Systems has used .NET CF for developing Windows CE based products where the major requirements of the application has been faster time to market, modular, extensible, using existing third party code, etc.
e-con Systems has developed a number of applications for the Windows Mobile / Windows Embedded Handheld Platforms as well based on .NET CF and has worked on all .NET CF versions until the latest .NET CF 3.9
Silverlight and XAML
An ergonomic and intuitive GUI requires skilled animation based UI development. Windows CE supports Silverlight for all animation related application development. e-con Systems has developed Silverlight User Interface and can develop custom animation based User Interface designs for your Windows Embedded Product.
With XAML and Expression Blend, Microsoft allows the graphics and user experience designers to decide and design the final Look and Feel and separate it very clearly from the software development team. e-con has skilled GUI developers and business logic teams who work closely with the client to optimise product development.
DirectShow Expertise
DirectShow is a Windows Multimedia Framework and API produced by Microsoft to work on media files and streams. e-con Systems has a lot of experience in working with DirectShow devices, codecs, filters and APIs. All of e-con System's camera products on Windows CE are based on DirectShow. We have customized and optimized the DirectShow pipelines for camera and display to a great extent. With this e-con Systems has worked on streaming video and multimedia requirements.
User Experience / Rich User Interface Design
The end user of a Windows Embedded Product would feel and realize the product only through the User Interface. The experience that he has with the application would widely define how he rates the product. Creating the perfect User experience for a product is a major step for an embedded device and more often than not separates success from failure.
User experience is one of the biggest highlights of the Windows Embedded Compact operating system. e-con Systems has developed superior User Experience designs and have implemented them on the Windows CE platform for specific products.
e-con has developed these user interfaces both using traditional Windows Graphical API and also using Silverlight and XAML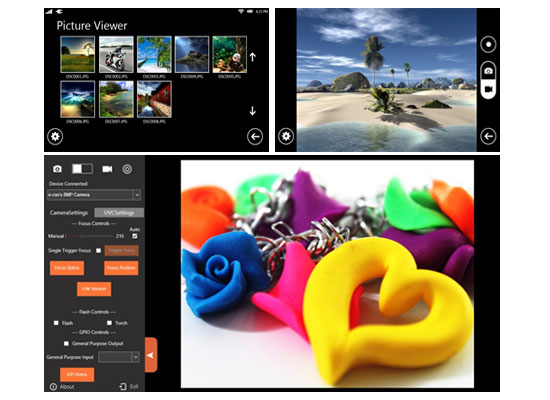 Porting Applications
Technology keeps evolving continuously and so are the programming languages, tools and development environment. With changing technology and requirements, comes the need for porting applications. There are many reasons why application porting might be required such as:
Some of these tasks may be porting and some may be actual refactoring or re-writing of the entire code. e-con Systems has expertise in all the above projects and can guide you in selecting the most cost effective approach for your product.
| | |
| --- | --- |
| Replacing a PC with the embedded device - A PC might have been involved in doing certain functionalities and an embedded device may be designed to replace it. The PC application might have to be ported to the new device. | Windows to Windows Embedded Compact 2013 |
| Porting from an earlier version of the operating system to the new version | From CE 4.2 to Windows Embedded Compact 2013 |
| From one language implementation to another - On the latest device | VB application - .NET C# Application |
| From one operating system to another | Embedded Linux App - Windows CE |
| Microcontroller based device to Windows CE based device | uC to CE |