Bluetooth Low Energy
e-con Systems has developed the
Bluetooth Low Energy (BLE)
/
Bluetooth 4.0
stack for Windows Embedded Compact 2013 and is demonstrating the
GATT
profile. The BLE is intended to provide considerably reduced power consumption, size and cost while maintaining a similar communication range as the classic Bluetooth. In many cases, it makes it possible to operate the devices for more than a year without recharging.
This technology is aimed at applications in the healthcare, fitness, security and home entertainment industries.
Bluetooth Smart
features provide:
Ultra-low peak, average and idle mode power consumption
Ability to run for years on standard coin-cell batteries
Lower implementation costs
Multi-vendor interoperability
Enhanced range
e-con Systems has developed BLE stack that works in parallel with default Microsoft stack for Windows Embedded Compact 2013. The BLE SDK comes with dynamic libraries both (C# and C++) and API developer guide which enables customers to develop their own customized application on top of BLE stack
Customers who wish to evaluate this could purchase
Ankaa – eSOMiMX6 Reference Design
Or contact e-con Systems with your requirements and questions
Supports for Windows Embedded Compact 2013.
Easy to use APIs.
Developed on top of Microsoft Stack.
Supports GATT Profile – User can develop any profiles on top of this GATT APIs.
Reduces Application Development Effort.
Can be used on existing WEC2013's HCI transport layer – So this would work on USB/UART/SD Bluetooth devices.
Supports only Client mode.
Simultaneous usage of BLE 4.0 and existing v2.1 stack.
Windows 8 like APIs so users can port their Windows 8 BLE application easily to WEC2013.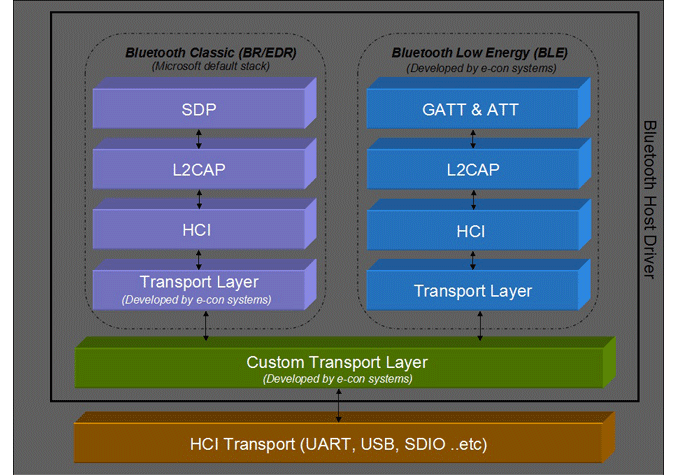 Kit Contents:
Dynamic Libraries (both C# and C++)
API Developer Guide
Example of SDK integration into application
Evaluation Kit:
The Bluetooth Low Energy stack for Windows Embedded Compact 2013 is readily available for evaluation. Customers choosing to evaluate can purchase Ankaa – eSOMiMX6 Reference Design.
| | |
| --- | --- |
| Kit Contents | |
For all enquiries please write to sales@e-consystems.com