Android Product Development
e-con Systems offers HMI solutions on Android for devices across a number of industries like Retail, Healthcare, Automobile, Industrial, etc.
Android has been the preferred operating system for products, where the product is more User Interface centric. Being designed for a wide demography of users (of mobile phones), Android has in-built components that make User Interface design more interactive, intuitive and easy to create.
The highlights like
Android Animation.

Android Touch Gestures.

Android Sensor integration etc. gives a distinct advantage for Android to be used as Human Machine Interface.
e-con Systems specializes in Android based Product Development and has worked extensively on making Android based GUI.
e-con Systems offers Android BSP and fully functional development kits for your quick prototyping and development activities.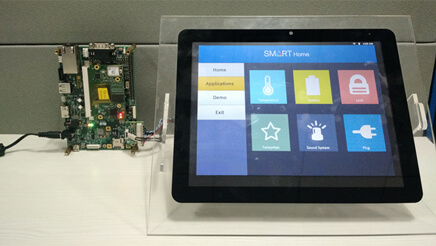 HMI with Android Tablets
Many applications were using Windows based X86/PC platforms as HMI for their devices for a long time. The PC platforms operated in Kiosk modes, booting directly into an application. Windows provided business models to support this type of usage as well.
ATM Machines, Shopping Mall Kiosks, Point of Sale are some of the examples. There are many industrial applications that use this mode as well.
Android are replacing these X86 boards as HMI options.
e-con Systems' provides the necessary services for creating HMI for device using Off the Shelf Android Tablets.
e-con Systems has expertise in
Configuring Android for Kiosk Mode operation (booting directly to an application)

Connecting Android tablet with target sensor board over USB or wireless Bluetooth interface (without rooting the device)

Developing GUI Applications
Android as a Windows Replacement
There are many User Interface Kiosks running Windows XP and other versions of Windows with Visual Basic or .NET based user interfaces. These Kiosks are mostly based on x86 hardware. The PC Motherboard / X86 based boards are giving way for ARM based platforms which are better in terms of Cost and Power.
e-con Systems can help you move your old Windows (VB, C++ or .NET) based applications to the Android Platform. e-con Systems has expertise in creating detailed requirement specifications from existing applications, designing and developing them for Android.