Windows Embedded - Industries & Solutions

Windows embedded offers a rich set of features that allow customers to design innovative and highly differentiated products.
With its componentized modules, customers can pick and choose features that meet their specific end user requirements. In addition, e-con helps its customers to innovatively mix and match components to create new features that are highly user friendly in the field.
e-con's expertise lies not only in its deep understanding of embedded technology but also in its ability to understand every customer's unique requirements and to match the technology to their needs.
e-con Systems has engineered and manufactured for a variety of industrial sectors including but not limited to Handheld, Medical, Bio-medical, Gas Chromatography, Measurements and Automobile Infotainment.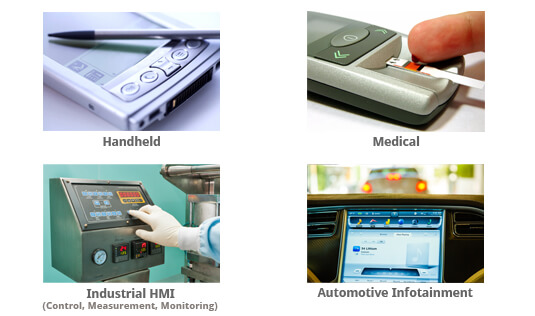 Windows Embedded differentiators
Windows Embedded is used in a wide variety of applications including manufacturing, rugged handhelds, automotive, medical, retail and logistics. Being a small form factor OS, it has multiple features which support productivity for mobile personnel. Some of the key features which Windows Embedded offers include:
Touchscreen ready GUI
Windows Embedded supports user friendly touchscreen interfaces. The user interface can be customised to provide an easy to use familiar navigating environment. This increases efficiency and reduces training time.
Security
Devices can be configured for multiple users with separate user and admin rights. Password protection to prevent unauthorised tampering with the device is also possible.
Flexibility
Flexibility in adding and removing OS components as new software and applications are added. The device can be programmed for multiple users and multiple applications. This flexibility helps ensure optimal capacity utilisation of the device and reduces total cost of ownership.
Hardware component support
Windows embedded supports multiple hardware component add-ons.

Cameras which can also be used as a bar code scanner

Sensors for temperature, humidity, pressure, accelerometer

Card swiping readers

Audio note recording

USB 3.0 interface for fast data transfer going up to 5 Gbps
Remote support
Devices can be supported remotely for routine maintenance, backup, updating and restoring. Windows embedded permits users to transfer enterprise management capabilities to devices deployed in the field.
Connectivity
Devices can be configured for Wi-Fi, wireless and Bluetooth connectivity - allowing real time data transfer and cloud connectivity. Facilitates fast updating of software applications and database libraries to the device. Helps ensure that field personnel are using the latest software. Also ideal for remote location operations.
Data logged in from the field can be updated through cloud services in real time - ideal for applications such as inventory control and sales tracking especially in volatile and seasonal businesses.
Assists field personnel to get immediate clarifications/information updates as they are dealing with maintenance or customer service issues in the field. Real time access to specialists within the organisation and accessibility to pre-programmed software applications can help organisations reduce the need for highly qualified service and maintenance personnel in the field.
Monitoring and control
Windows Embedded devices can be configured to send real time alerts through email, SMS and Bluetooth to smartphones/PCs when specific event occurs allowing immediate monitoring of critical events. Alerts can be configured for specific time/date or based on event occurrences.
Being a hard real time OS, critical parameters can be closely tracked and monitored as they occur in real time. Essential in applications like medical diagnostics and critical production processes.
Hard real time OS also permits the device to be used for both batch (lab and field applications) and continuous process flow monitoring.
GPS
Use GPS tracking to match field samples/data to geographical locations. Ideal in mining, agriculture, water sample analysis, surveying and construction industries.